This stuffed tomatoes recipe with ground beef is easy, delicious, and works as a side-dish and comforting main dish. The recipe combines fresh Italian herbs & spices with lean ground beef and rice stuffed into tomato shells, then baked in the oven to perfection.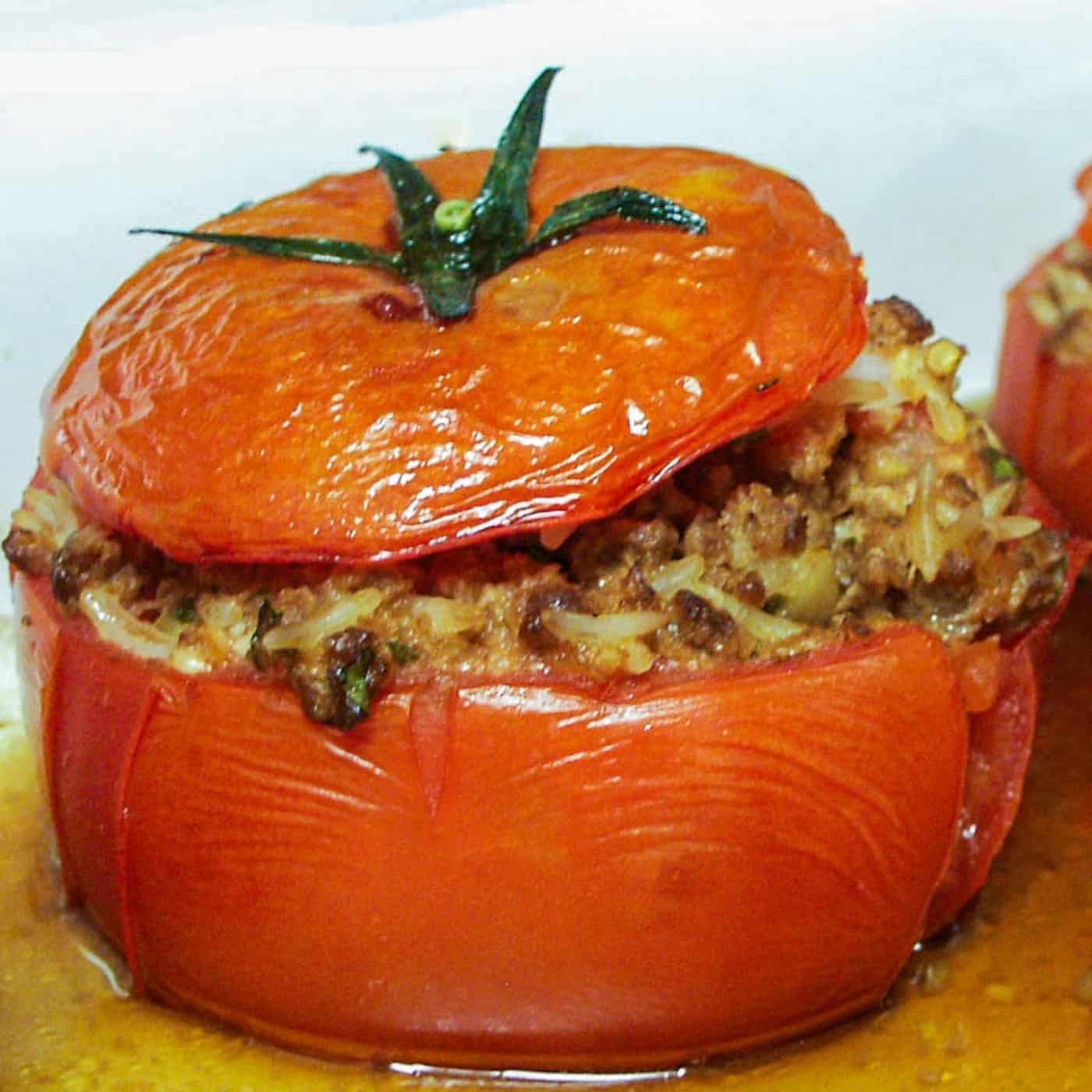 Do you like Italian recipes, stuffed with cheese, beef, and sauce? Try my stuffed rigatoni and my easy no boil lasagna recipe for another classic oven-baked Italian recipe.
Contents
🍅 Italian stuffed tomatoes baked to perfection
I love light dinners, especially when they are made with healthy ingredients and taste delicious like this stuffed tomato recipe.
My grandma made stuffed vegetables at least once a week from zucchini boats, bell pepper, eggplant, tomatoes and filled them with a meat mixture topped with melty cheese. I used to eat Italian stuffed tomatoes with delight and always took some home with me for later.
This stuffed tomato recipe pair fenomenal with some baked beef empanadas that are crispy and flaky delicious! Highly recommended to make when you have extra ground beef.
🍽 What you need
Equipment-wise, all you need is a baking or casserole dish to lay the tomatoes out for baking. For the ingredients, I use lean beef as it gives the mixture a richer flavor and fresh herbs instead of dry, but it's possible to use dried herbs if you can't get fresh ones.
🔪 How to make
Learn how to make baked stuffed tomatoes with succulent ground beef with my easy-to-follow instructions, variations & substitutions section, and video walkthrough. Prepping the stuffed tomatoes takes 20 minutes and then about an hour to bake.
Instructions
Preheat the oven to 325 degrees Fahrenheit (160 degrees Celsius).
Place the tomatoes on the chopping board and cut the tops of each one to create a lid. Scoop the seeds out into a strainer over a bowl and press the seeds so the juices come through. Discard the seeds, scoop out and dice the tomato pulp, and place it in the bowl with the juice.
Add the ground meat, garlic, onion, herbs, olive oil, cheese, salt, and pepper to the bowl and mix with a spoon until well combined.
Fill the hollowed-out tomatoes with the ground meat and rice mixture, and arrange them on a baking dish.
Lay the lids on top, drizzle some olive oil over, and bake in the preheated oven for about 1 hour 15 minutes.
Carefully scoop out a small bit of rice and taste to see if it is soft and cooked through. If the rice and tomatoes are soft, you can remove them from the oven and let them cool for 15 minutes before serving.
Substitutions
These stuffed tomatoes go with any type of meat filling, such as ground turkey, Italian sausage, or ground chicken.
If you can't find asiago cheese, you can substitute it for a similar cheese like parmesan, pecorino romano, feta cheese, or jack cheese.
Make them vegetarian by substituting the ground meat for your favorite chopped veggies. I sometimes use red bell pepper and carrot when I make stuffed vegetarian tomatoes.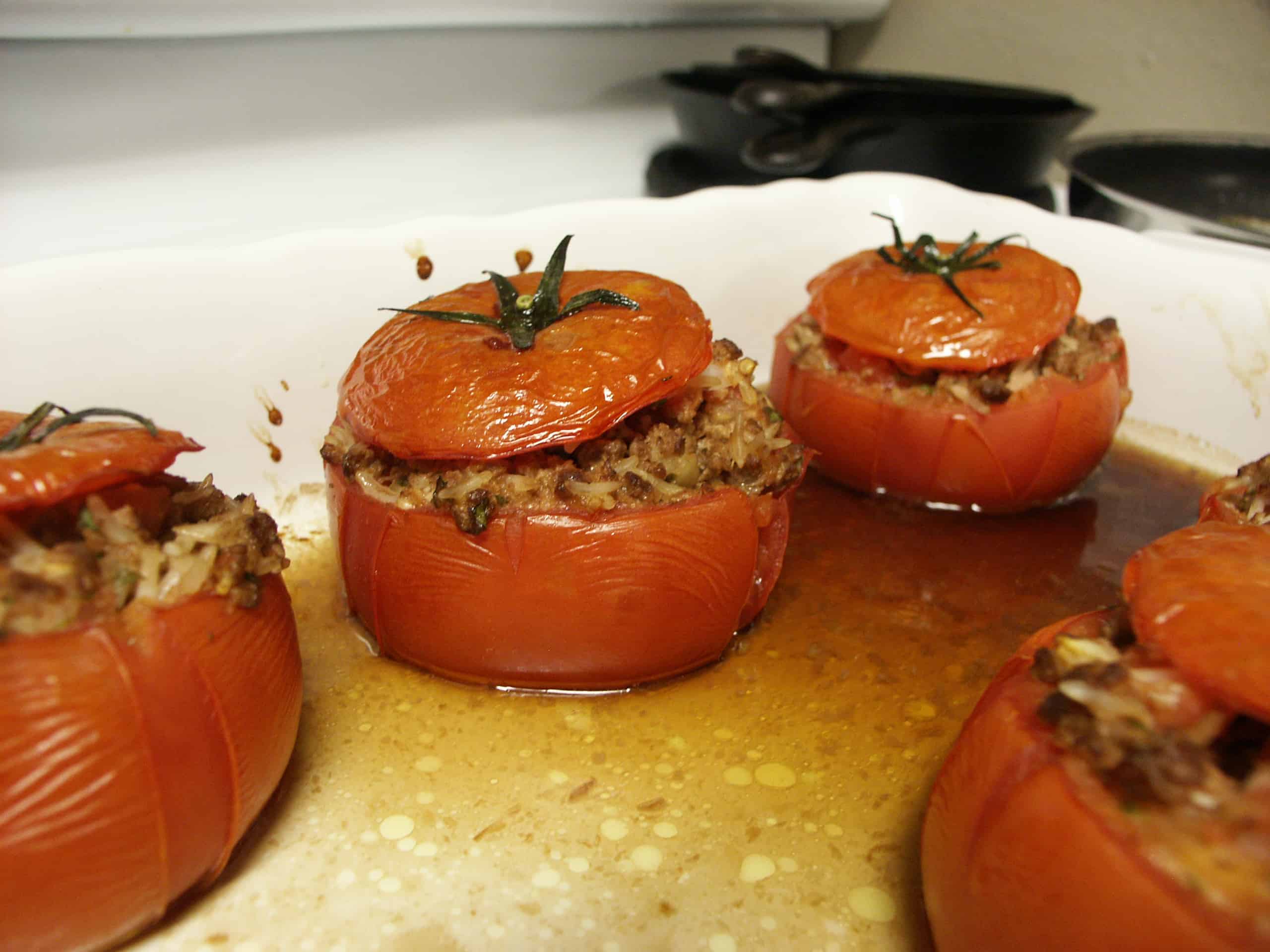 💭 Top tips for success
When choosing the tomatoes, make sure to choose the ripest ones that are firm, as the softer ones may fall apart after 1 hour of baking, leaving you with sloppy stuffed tomatoes.
Do not scrape every last bit of tomato pulp from its shell. Use a melon baller or small spoon to remove the pulp, but make sure to not puncture or break the shell.
Choose heirloom tomatoes of similar shape and size. The bigger, the better!
Once the stuffed tomatoes are cooked through, bake them for 10 minutes topped with mozzarella cheese or more asiago cheese until the cheese has melted.
📖 Delicious Variations
If you're in love with stuffed tomatoes and want some more vegetable stuffed recipes, give some of these variations a try. They use the same prep process described in this recipe but with a slight difference in the filling.
Stuffed zucchini boats are the best way to enjoy a lasagne-style dinner without the extra carbs. Rather than cutting the zucchinis in halves or thirds to make small shells, this recipe cuts them in half lengthways like a boat. Filled with a succulent beef filling and loaded with cheese.
These twice-baked potatoes are on another level. They are 100% vegetarian and incredibly moreish with the creamy, cheesy filling. If you love baked soft potatoes with a twist, then these stuffed potatoes will be perfect for you.
If you're looking for a downright hearty meal, this is it! These bell peppers are cut in half and filled with a succulent mixture of ground sausage and beef, mixed with rice, tomato juice, herbs and topped with melty cheddar cheese. Just like stuffed tomatoes, but much more filling!
What is the best thing to do with tomatoes?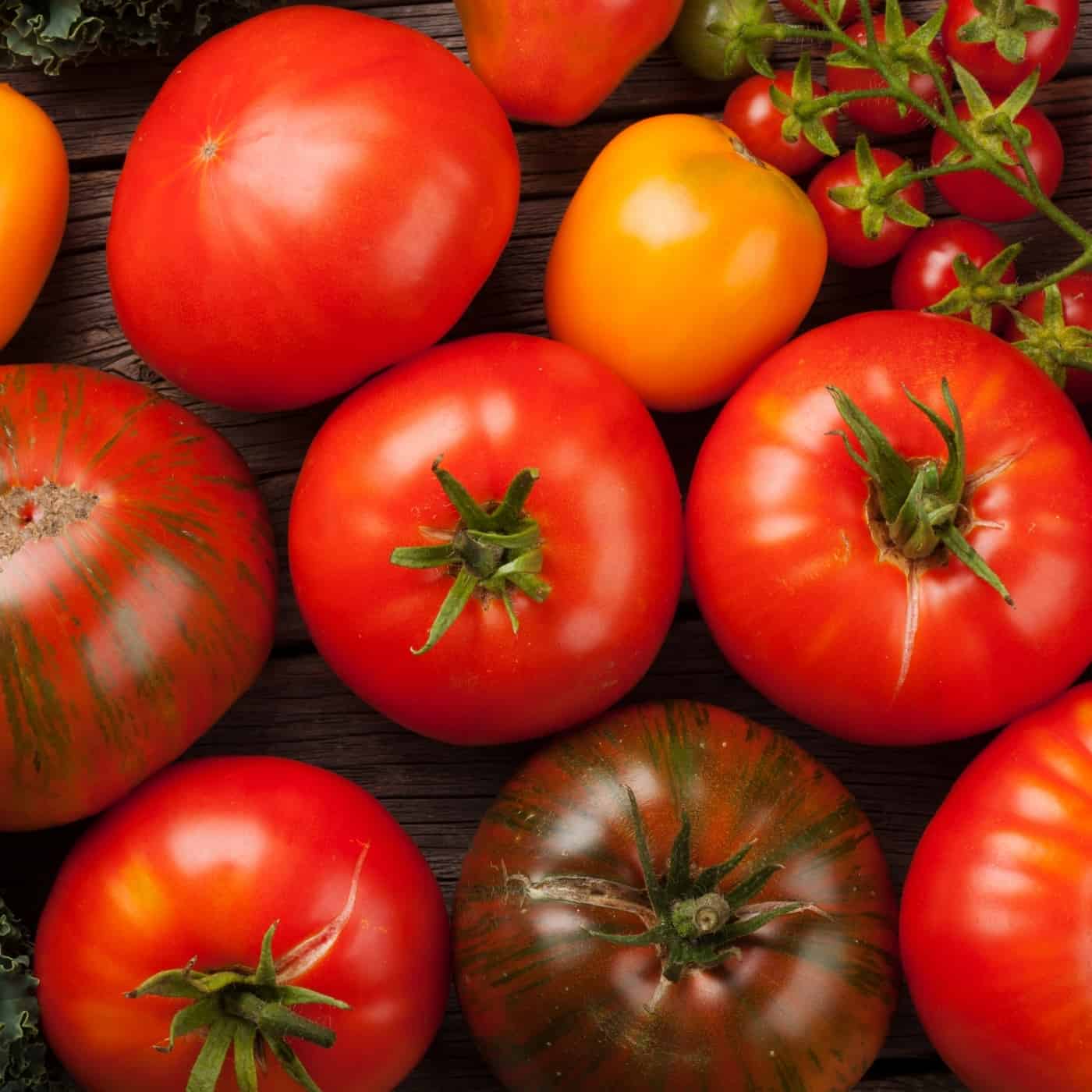 8 easy ways to use tomatoes:
1. canning tomatoes
2. tomato sauce
3. bruschetta
4. roasted tomatoes
5. cabbage roll soup
6. tomato jam
7. tomato soup
8. salsa
🧊 Storing and ♨️ Reheating
This stuffed tomatoes recipe is easy for storing any leftovers, and it's great for preparing in advance to cater for a dinner party.
Fridge
Store any leftover stuffed tomatoes on a large plate wrapped in plastic wrap or transfer them to an airtight container and place it in the fridge for up to 3 days.
Freezer
Allow any leftovers to cool completely, then transfer them to an airtight container and place them in the freezer for up to 4 months. When you want to eat them, cook them frozen in a preheated oven for 20 minutes at 350 Fahrenheit (176 Celsius).
Make in Advance
Prepare the stuffed tomatoes as demonstrated in the "How to make section" store them in the fridge for up to 2 days uncooked or 6 months frozen on a flat plate or dish wrapped in plastic wrap.
🍳 Related Italian Recipes
Italian recipes go hand in hand with ground beef.
For more tomato recipe ideas check out my delicious and comforting tomato bisque soup recipe.
👪 Serving size
6 large heirloom tomatoes cut in half will give you 6 servings for this recipe, but it's perfect for scaling, too, as it doesn't require any additional time. I sometimes make a selection of different stuffed veggies when I have BBQs or parties.
Stuffed tomatoes are usually one of the first dishes to go and one that gets me a lot of compliments from friends and family. Give this comforting low-carb recipe a go, and I promise you won't be disappointed.
Love this recipe? Please leave a 5-star 🌟rating in the recipe card below and/or a review in the comments section further down the page.

Try one of my comfort dinner recipes for your next family meal! And if you have any questions, I'm here to help!
📋 Recipe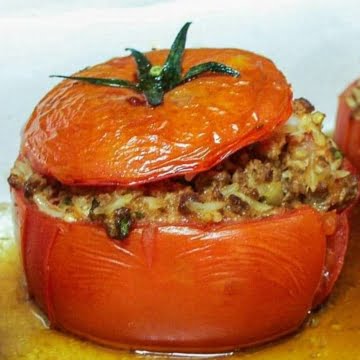 Italian Stuffed Tomatoes
Stuffed tomatoes are perfect summer food, or anytime you can find great tomatoes in your supermarket.   Super hearty and filling these stuffed tomatoes are a great option for a lighter, healthy dinner.
Print
Pin
Rate
Share
Ingredients
6

large

tomatoes heirloom

½

pound

ground beef

-

lean

½

cup

white rice

-

medium grain

3

cloves

garlic

-

pressed

½

onion

-

finely diced

⅓

cup

parsley

-

chopped

¼

cup

basil

-

chopped

½

cup

asiago cheese

-

shredded

to taste salt and pepper

5

tablespoon

olive oil
Instructions
Preheat the oven to 325 F.

Cut off the top of each tomato, creating a 'lid'.  Put a fine mesh strainer over a bowl, and use your fingers to carefully scoop the seeds out of the tomatoes into the strainer.  Push on the seeds to get all of the juice, then discard the seeds.

Use a spoon to scoop out most of the flesh from the tomatoes, then chop that up and add to the tomato juice.

Put the beef and rice in a large bowl, add the garlic, onion, parsley, basil, cheese and the tomato pieces and liquid.  Add 2 ½ tablespoon of the olive oil, salt and pepper, and mix together well.

Fill the tomatoes with the meat filling and arrange in a casserole dish.  Top each tomato with its lid and drizzle with the remaining olive oil.

Bake for about 1 hour 15 minutes, or until the tomatoes are soft and the rice is cooked.

Let stand for about 15 minutes before serving.
Nutrition
Calories:
328
kcal
|
Carbohydrates:
21
g
|
Protein:
12
g
|
Fat:
22
g
|
Saturated Fat:
6
g
|
Trans Fat:
1
g
|
Cholesterol:
33
mg
|
Sodium:
171
mg
|
Potassium:
600
mg
|
Fiber:
3
g
|
Sugar:
5
g
|
Vitamin A:
1915
IU
|
Vitamin C:
31
mg
|
Calcium:
139
mg
|
Iron:
2
mg