Get highly nutritious dishes and yummy desserts with these amazing purple potato recipes! These potatoes come with amazing flavors that'll give you irresistible side dishes, appetizers, and desserts in a matter of minutes!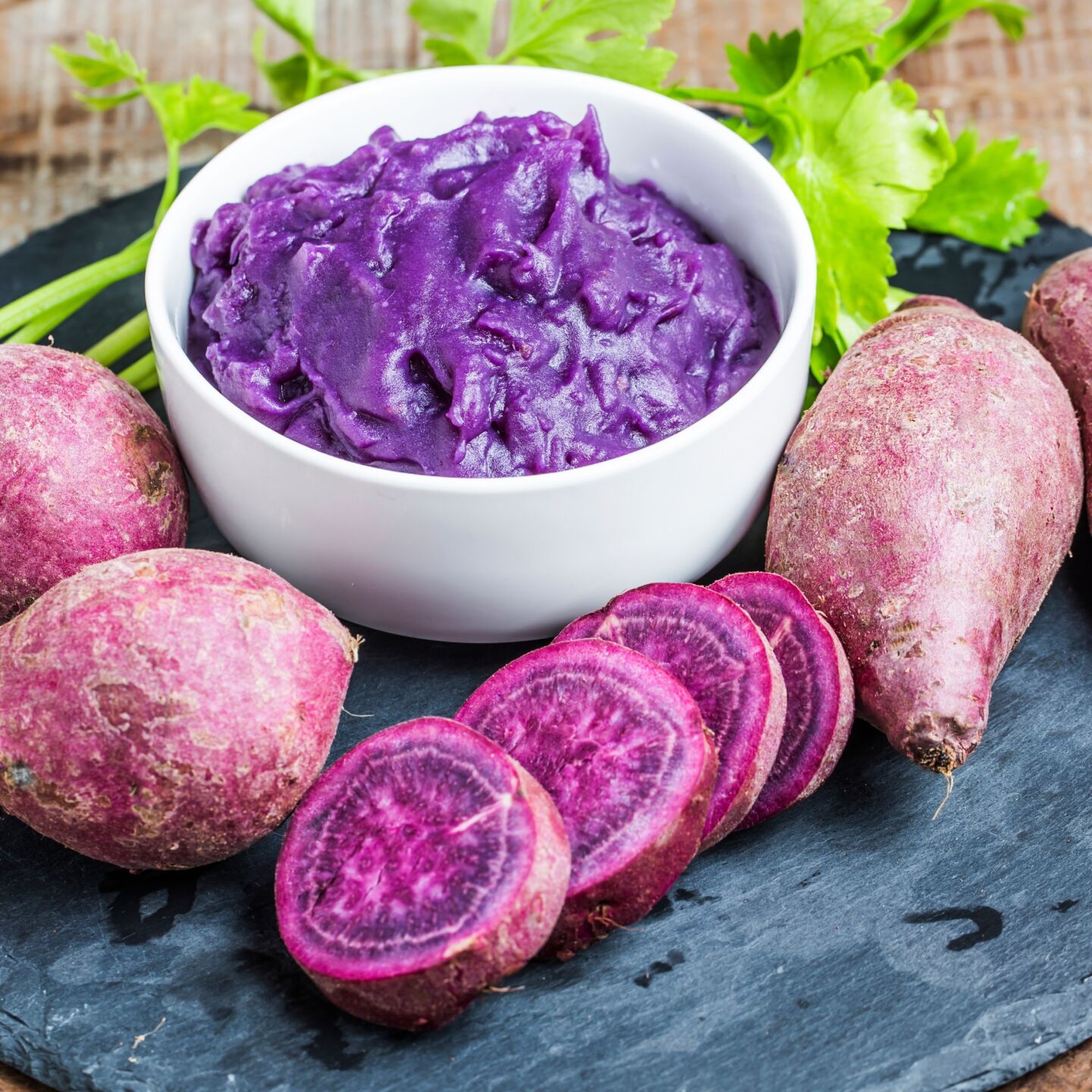 You can make a fancy dish from these purple potatoes, from mashed potatoes to salads, all with a few other ingredients.
These purple potato recipes promise moist and lightly sweet dishes that regular potatoes can't compare.
We start our recipes with the simple roasted purple potatoes recipe, a simple side dish that pairs perfectly with your meat meals.
Purple sweet potatoes coated in seasoning and roasted to crispy perfection with an oven or air-fryer are all you need for your grilled meats.
This roasted potatoes recipe involves purple potatoes with olive oil, garlic powder, black pepper, paprika, and onion powder.
It takes only 25 minutes to make, and you should garnish the delicious roasted purple potatoes with fresh herbs to serve. For other potatoes like the russet potato, check our roasted potatoes recipe.
Give your main dish color and a unique taste with this simple potato recipe.
To make, find purple potatoes, heavy cream, maple syrup, unsalted butter, cardamom, cinnamon, and maple syrup.
Garnish with toasted pecan to enjoy!
If you love a simple dish of Gnocchi made with purple potatoes, this is the naturally gluten-free recipe for you!
The recipe uses sweet potatoes of purple color, whole milk ricotta, grated parmesan cheese, flour, nutmeg, and sage leaves.
It takes about 30 minutes to get ready, and you should serve it with grated cheese and freshly ground black pepper to enjoy.
These purple potatoes taste divine in a pie and have just the right amount of crunchiness with the streusel topping.
The delicious dessert is made with garlic cloves, melted butter, coconut sugar, oats, ginger, maple syrup, nutmeg, and cinnamon.
It takes about 3 hours to make, but the delicious result is absolutely worth it! If you enjoyed this, you'd love sweet potato pie even more.
Swap those red and yellow potatoes for the unique taste and health benefits of these purple potatoes. The high level of antioxidants and low saturated fat make these purple potatoes healthier than virtually all other staples for your potato salad.
This recipe incorporates evenly sized pieces of purple potatoes, red onion, green onion, celery, Dijon mustard, mayonnaise, dill, and red pepper flakes. It serves as a delicious side dish to several main courses, and you can enjoy it alone as a light meal.
If you'd rather have a regular potato salad, check out the best potato salad recipe ever.
When it comes to side dish cuisine, these purple sweet potato buns are everything you need to put on a plate for the ultimate dining experience.
The elegance and taste of the buns surpass that of russet potatoes, and the recipe calls for granulated sugar, avocado oil, whole milk, dry yeast, all-purpose flour, and eggs.
Serve immediately with a slab of butter to enjoy.
Red cannot give you the color, taste, and creaminess of this purple potato unicorn soup.
The purple majesty is made with garlic cloves, purple potatoes, chicken broth, thyme, olive oil, butter, and onions.
Top the soup with creme fraiche and golden turmeric croutons to enjoy. See our simple guide on how to thicken soup!
This recipe opens you to a delicious exploration of potatoes to make muffins.
The purple color of these potatoes gives the dessert a splash of elegance along with its already irresistible flavors.
The muffins are incredibly moist with tender crumbs and can take a creamy topping of your choice. So, get your baking sheet and have these ready to serve within an hour.
There are more potato recipes to try with this staple, and these deliciously baked fries are on top of the list. The purple potatoes are cut and evenly coated with avocado oil and seasoning, giving you something better than french fries.
Fry them till they're golden brown around the edges, and garnish with minced herbs and coarse sea salt to enjoy with a dipping sauce.
You'll enjoy these stuffed twice-baked potatoes as much as you do this recipe.
If you have leftover potatoes of purple color, get them together to make these amazing desserts. They're vegan-friendly, gluten-free, and perfect for the holiday season.
The bars require coconut milk, vanilla extract, agave nectar, flax meal, almond butter, and almond flour, among others.
Prepare and chill in the refrigerator for at least four hours. Slice with a sharp knife and serve with preferred toppings.
Enjoy a creamy and colorful ice cream made with potatoes using this fantastic recipe.
The recipe calls for full-fat coconut milk, arrowroot powder, purple sweet potato puree, and vanilla.
To keep the ice cream mixture from freezing too hard, you can add vodka or gin. Feed the mixture into an ice cream machine and freeze for at least six hours.
Make yourself a bowl of vibrant and comforting goodness with this purple sweet potato cashew cream soup! It's one of the dish recipes that only a handful of ingredients to give you a fully-packed nutrition serving with each scoop.
The ingredients for the soup include ginger powder, olive oil, onions, minced garlic, minced ginger, zucchini, and cashew.
Serve in a large bowl and garnish with toasted sesame seeds, thyme, broccoli sprouts, or your soup toppings to enjoy.
Start your day the right way with this amazing breakfast skillet. It's super easy to make with only 25 minutes of cook time and a handful of ingredients.
These ingredients include onion powder, pancetta, baby purple potatoes, smoked paprika, kosher salt, cayenne powder, and green onions.
Make sunny-side-up eggs on the skillet and serve immediately.
Other potatoes won't give you the health benefits and delicious taste of these baked Okinawan sweet purple potatoes. These baked potatoes have healthier cholesterol levels and are perfect for blood sugar.
Get the potatoes at large grocery stores, wash and wrap them in parchment paper to bake. Bake for about an hour and serve with your favorite sauces.
If you're still wondering what to serve the family for dinner, this purple potato and beef curry dish is everything you need!
It's made with beetroot, garlic cloves, cinnamon stick, star anise, beef, marsala, coriander, cardamom, and chicken stock.
Serve the delicious stew over rice or with bread to eat.
As breakfast or a delicacy at cocktail parties, these mashed purple potato pancakes have the taste and elegance to earn you cheers!
The pancakes are mashed potatoes with pancetta, cheddar cheese, canola oil, unsalted butter, milk, eggs, and garlic cloves.
Fry until golden brown, and top with scallions, sour cream, or yogurt to enjoy.
This purple potato salad is made with only seven ingredients, and it's perfect as a side dish for any main course.
The salad incorporates these potatoes, arugula, spinach, carrots, shallots, virgin olive oil, and pesto.
Garnish the salad with fresh thyme and sprinkle coarse salt to taste.
With this recipe, you get a delicious loaf of bread made with sweet Japanese purple potatoes. The recipe incorporates bread flour, purple potatoes, brown sugar, eggs, milk, butter, and salt.
Preheat the oven and bake for about 30 minutes or till you get a golden brown exterior. Ensure to sprinkle some sesame seeds on top before baking.
You can enjoy this bread loaf with a delicious soup like this lentil potato soup.
This delicacy fits perfectly as brunch, giving you a gluten-free and paleo-friendly dish to enjoy with your family.
The ingredients for this include purple sweet potatoes, apple-like honey crisp, coconut oil, onion, and eggs.
Add salt and pepper to taste, and serve when cool to enjoy.
These are simple party appetizers that can be made in only 30 minutes and with just four ingredients.
The ingredients include purple potatoes, sour cream, capers, and smoked salmon.
Spread sour cream on the cooked potatoes, add a piece of salmon and garnish with a caper.
Purple Potatoes Recipes Takeaway
Purple potatoes have a taste similar to regular potatoes but give your dishes an irresistible elegance and a load of health benefits!