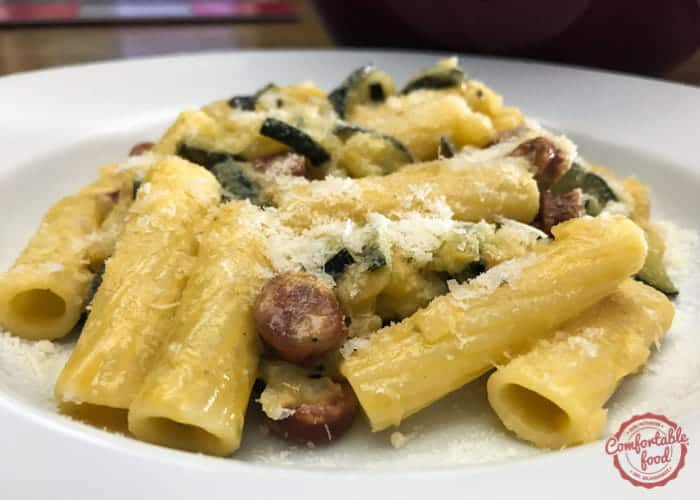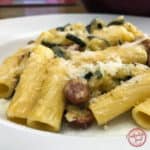 I live for pasta.  When it's a weeknight and I'm tired from a long day it seems to always be my dinner choice.  It's quick and easy, so hearty and filling and SO good.  This one is rich and creamy and so simple to make.  It's full of zucchini and the chorizo adds so much richness and protein - it's seriously delicious.
You can use whatever kind of pasta you want, I'm obsessed with rigatoni right now, so it was my obvious choice.  The sauce really stuck to the pasta, everything was perfectly coated.  This dish is traditional from the southern part of Italy and let me tell you - it's absolutely perfect.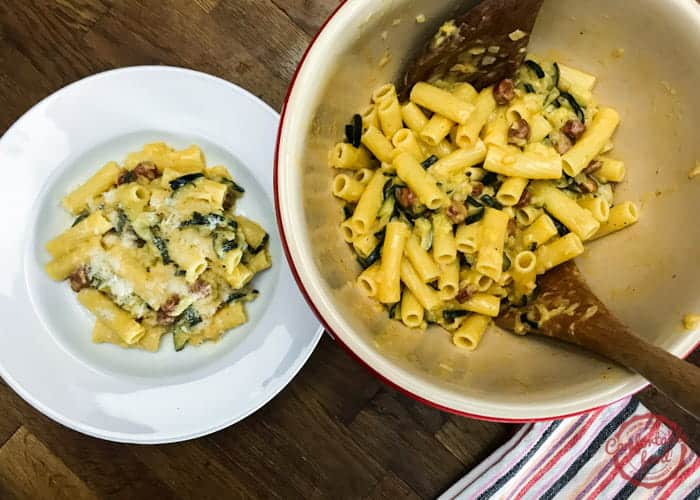 here's a video showing how to make it:
Ingredients
how to
In a medium sized sauce pan, melt the butter and olive oil together over medium low heat.  Add the onion and cook until translucent, about 4 - 5 minutes.  Season with salt and pepper.
Increase the heat a bit and add the zucchini.  Cook and stir until softened - about 4 minutes more.
Pour in the white wine and increase the heat a bit more to cook out the alcohol, then stir in the chorizo.  Allow this to cook together for about 5 minutes, for the flavor to combine, then stir in the cream and lower the heat to a simmer until the sauce thickens.
Remove from heat and grate the parmesan cheese over the top - stir together until melted, then toss with the pasta of your choice.  Garnish with a bit more parmesan and serve hot!