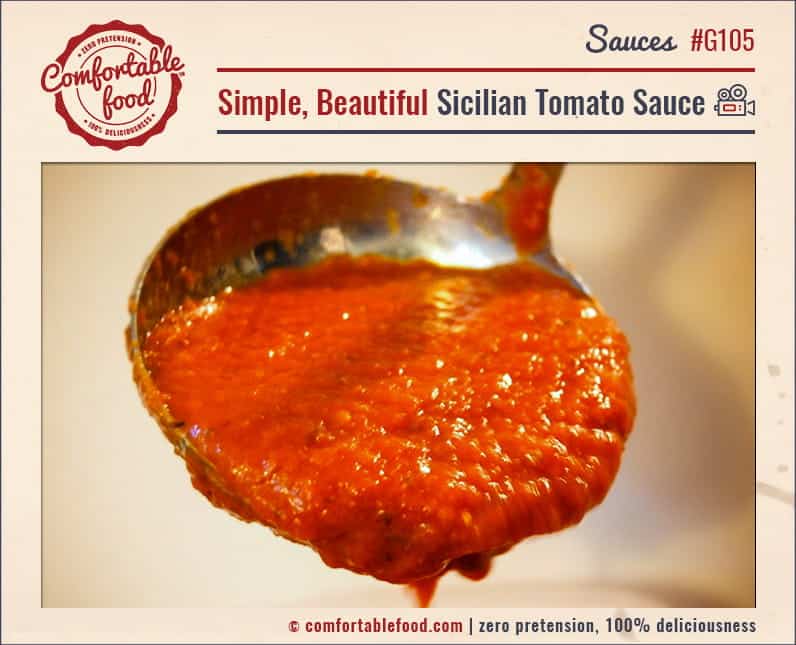 This traditional Sicilian tomato sauce is a recipe I got from a chef I worked with years ago. It came from his Sicilian grandmother, and I've got to say it's by far the best tomato sauce I've ever had. It's so simple, and it's really true that with some great quality ingredients and some time you can have the best Italian tomato sauce ever.
Quality ingredients are very important to this tomato sauce, I recommend that you get your hands on some imported Italian canned tomatoes. I actually prefer canned tomatoes over fresh in this recipe, I think they have a bit more intense flavor.
There is an age old argument over whether to put sugar in the sauce or not. For me it's integral, it really does take away some of the natural bitterness that can come with the tomatoes and really does just round out this incredible sauce.
There's not much prep in this recipe at all, but there is some time involved. I usually cook it for about 3 hours, but sometimes as long as 4. You can tell when the sauce is ready by the color it turns and the fragrance.
here's a video of me making this sauce:
Simple, Beautiful Sicilian Tomato Sauce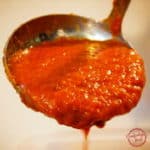 Print
Nutrition facts

(per portion)
Nutrition facts
(per portion)
Calories: 80
Carbohydrate Content: 10.4
Cholesterol Content: 5
Fat Content: 4.4
Fiber Content: 1.9
Protein Content: 1.4
Saturated Fat Content: 1.6
Serving Size: 12
Sodium Content: 28
Sugar Content: 6.2
Ingredients
how to
Melt the butter and the olive oil in a large heavy bottomed sauce pot.
When all the butter is melted, add the onions and garlic, salt well, and saute over medium heat for about 7 – 8 minutes, until the onion rings begin to lose their shape and soften.
Add the canned tomatoes (with their juices) and bring to a simmer.
When at simmering, reduce the heat and maintain a slow simmer for about two hours, stirring frequently.
Add the sugar, tomato paste and Italian herbs (if using dried herbs add now, if using fresh, add about 10 minutes before blending), stir well, and continue to simmer for about another hour.
Let the sauce cool a bit, then using a hand-held blender, puree until smooth.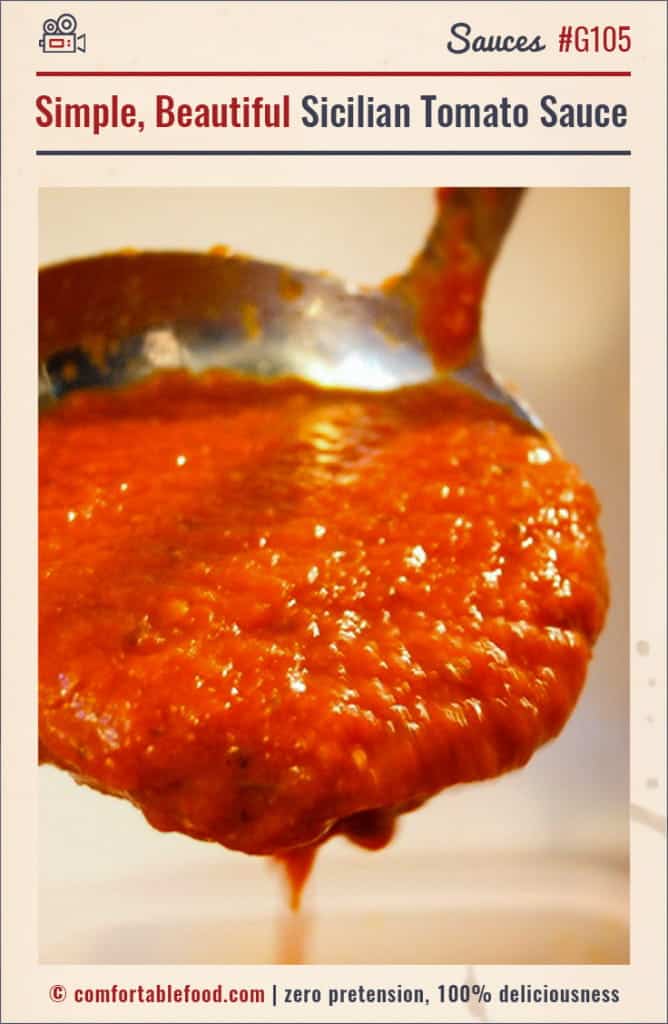 (this post contains affiliate links)
4.7777777777778

stars - based on

18

review(s)