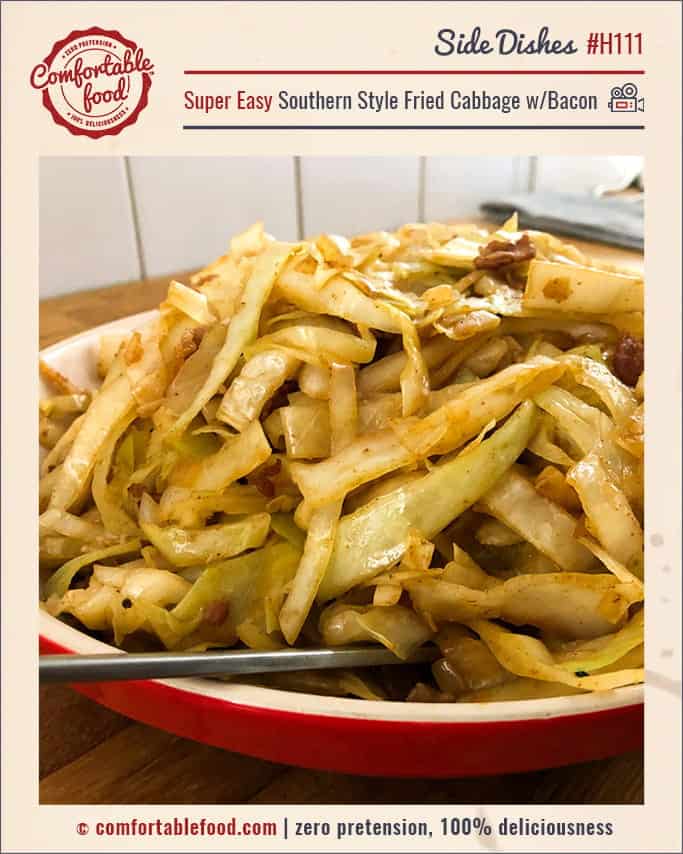 This Southern Style Fried Cabbage with Bacon has got to be one of the best comfort foods ever! It's ridiculously easy to make and it's so flavorful it's ridiculous. You literally just throw the ingredients into a skillet, cook it down and what you're left with is the perfect side dish for just about any meal.
I know there's not many new things under the sun in this information day and age that we're in, and there are about a million different versions of this dish, but I have to give a shout out to my friend Jamie over at Love Bakes Good Cakes as her recipe was what gave me the inspiration to come up with this one. All of these recipes are just adaptations of others, and I have to say while hers is super delicious, I really like the level of spice in mine. 😉
As it's called "super easy", I've got to tell you that's the complete truth. You can chop up the veggies in under 10 minutes, and it takes about 20/30 to cook all together, so this scrumptiousness comes together in about 30/40 minutes in total. Easy peasy delicious.
is cabbage your 'thing'? check out this awesomeness:
watch this video to see how simple this really is to make:
Super Easy Southern Style Fried Cabbage with Bacon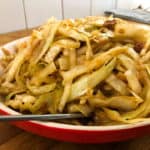 Prep Time: 10 minutes
Cook Time: 30 minutes
Serving: 6 - 8
Print
Nutrition facts

(per portion)
Nutrition facts
(per portion)
Calories: 129
Carbohydrate Content: 12.1g
Cholesterol Content: 16mg
Fat Content: 6.3g
Fiber Content: 4.7g
Protein Content: 7.7g
Saturated Fat Content: 2g
Serving Size: 8
Sodium Content: 656mg
Sugar Content: 6g
Ingredients
how to
Cook the bacon in a heavy bottomed skillet over medium heat until it starts to become crisp and most of the fat is rendered. Remove the bacon with a slotted spoon to a paper towel lined plate to dry, and remove all but about 2 tbsp of the bacon grease from the pan.
Add the onion, cook for about a minute or two, then add the garlic and continue to cook until the onion is softened - about 5 - 6 minutes.
Increase the heat a bit, add begin to add the cabbage, stirring well to combine. You might not be able to fit all the cabbage in at once, so continue to stir, and as the cabbage cooks and wilts add more until it is all in the pan.
Add the paprika, cayenne, salt, pepper and Worcestershire sauce, stir well to combine, then add the cooked bacon.
Continue to cook and stir for about 15 mins more, or until the cabbage is cooked and tender.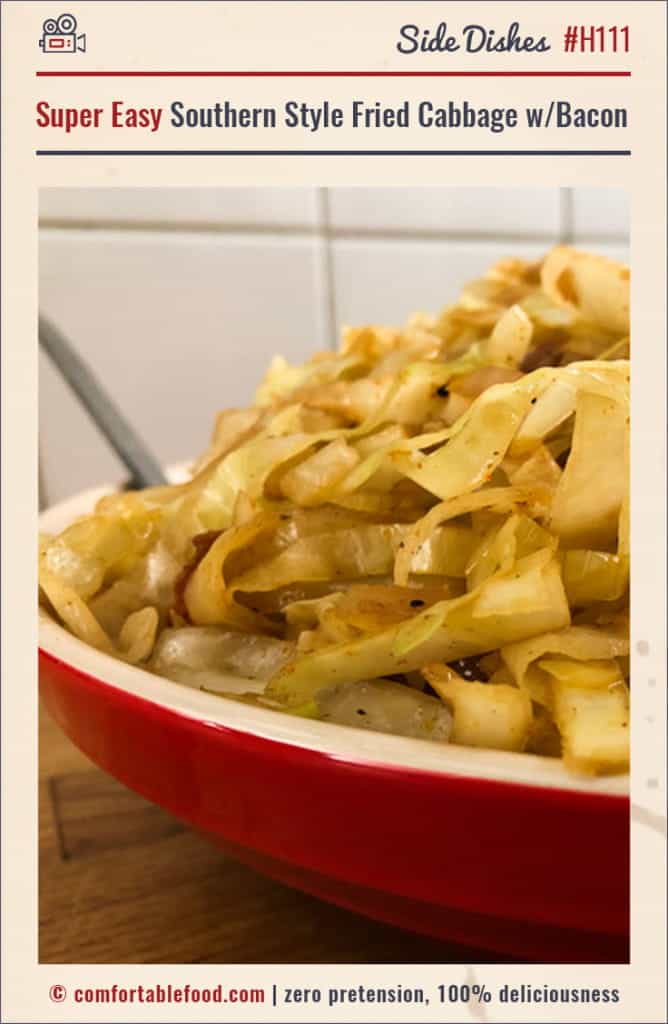 (this post contains affiliate links)
5

stars - based on

1

review(s)