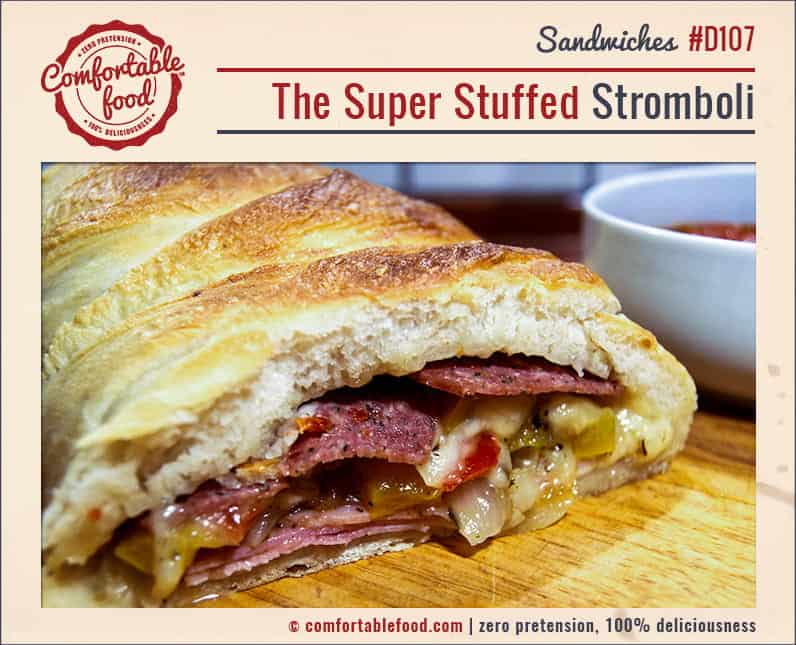 When I sat down to write this Easy Stromboli Recipe, I have to admit that I had never actually eaten one before. I had seen a few Authentic Italian Stromboli Recipes online and I decided that I needed to have a go at it. Oh wow – when this came out of the oven I could not have been happier. First of all, it was soooo beautiful. On top of that it was hearty and flavorful and filled with gooey cheese.
I made this a few times and served it to people to get some feedback, then I decided to put it on my food truck's lunch menu. It literally sold out every day – it's really just that good. Sort of like a pizza all wrapped up in a handheld package, this Stromboli is as much a sandwich as it is a stuffed bread.
It takes about an hour to make in total – there's about 25 minutes of prep time and it bakes for about ½ an hour.



here are a couple of our most popular sandwiches:
The Super Stuffed Stromboli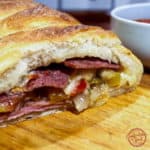 Print
Nutrition facts

(per portion)
Nutrition facts
(per portion)
Calories: 224
Carbohydrate Content: 9.1g
Cholesterol Content: 69mg
Fat Content: 5.7g
Fiber Content: 1g
Protein Content: 14.6g
Saturated Fat Content: 5.7g
Serving Size: 6
Sodium Content: 1014mg
Sugar Content: 1.3g
Ingredients
how to
Preheat your oven to 375 F (190 C).
Heat the olive oil in a large skillet over medium heat and cook the onion and peppers until beginning to soften, about 4 - 5 minutes.  Add the garlic, salt and pepper and Italian seasoning and cook for another minute or two, then allow to cool on a plate.
Roll the pizza dough out into a large rectangle, about 9"x13".  Line a baking sheet with baking paper, then transfer the dough to the baking sheet.
Sprinkle half of the mozzarella cheese down the middle of the rectangle, then lay the ham slices on top of the cheese, slightly overlapping them.
Spread the peppers and onions over the ham, then more mozzarella.  Lay the salami slices on, then sprinkle on the parmesan.
Use scissors or a sharp knife to cut strips into the dough on either side of the filling, making them about 1 1/2" wide.  Criss-cross fold them tightly over the top decoratively - leaving small slits for air vents between them.  Be sure to not cut all the way to the filling, but leave a little dough so the filling won't drip out.
When you get to the end, fold up the end flap first, then cross over it to seal it tight.  If you don't want to do a 'braid' you can just fold the sides over tightly, seal them together, then cut small slits across the top, about 1 1/2" apart.
Whisk the egg and 1 tbsp water together, then brush over the top and sides of the bread.
Bake for about 30 - 40 minutes, until golden brown.
Serve with a good quality Italian pasta sauce for dipping.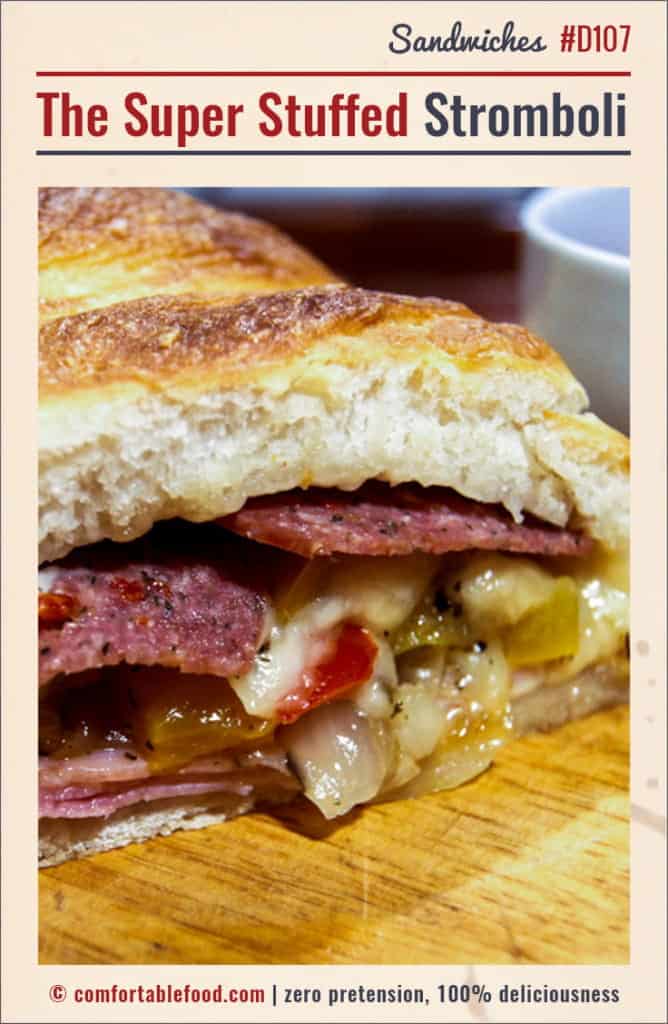 (this post contains affiliate links)