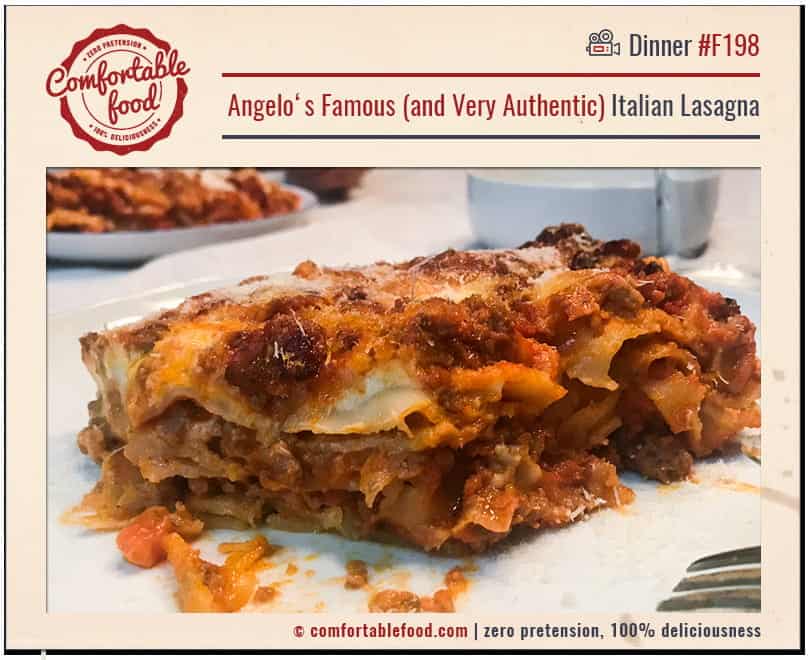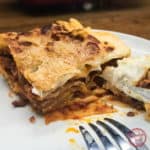 So I have this Italian friend Angelo, and he's just about the best cook I've ever known.  I quickly learned that among his friends and family he was quite famous for his lasagna.  I didn't have to insist much for him to make it for me, he loves cooking quite possibly more than I do.  All I can say is WOW - his lasagna was by far the best I had ever tried, and trust me - I've tried quite a few.
After a month or so of hounding him, I finally got him to agree to let me film his making it and to record the recipe (pretty much everything he does is from scratch).  We had so much fun filming it, and we ended up having to do it twice due to some technical issues, but that was no problem for me, as I got to enjoy this incredible dish TWO more times!
A note about making the sauce - be slow and have patience.  There aren't any herbs or additional flavors in it besides the meat and vegetables, and I promise you if you cook it long enough and with a lot of love it will turn out so flavorful that  people will be constantly asking you to share the recipe - and I hope you do.  😉  Enjoy this dish!!  It's super special to me and I hope for your sake it turns out half as good as Angelo's cause I guarantee you it will be the best you've ever had.
here's a video of me making it:
Ingredients
how to
make the bolognese:
Heat the olive oil in a heavy stock pot or dutch oven medium heat.
Add the onion, and cook, stirring often until softened - around 4 - 5 minutes.
Add the celery and carrot,  and reduce the heat to medium low.  Stir almost constantly until the vegetables are softened - about 5 minutes more.
Add the ground beef, and increase the heat slightly.  Cook the beef, stirring often until all the liquid has evaporated.  Add the wine, then cook some more until most of it has evaporated as well.
Stir in the tomato puree, bring to a boil, then reduce the heat and simmer, stirring regularly until the sauce has thickened and the color turns less red.  This can take anywhere from 1 to 2 hours, the longer it cooks the more flavorful the sauce will be.
make the lasagna:
Heat the oven to 350 F and spray a 9x11" baking dish.
Spread about 1/4 of the béchamel on the bottom of the prepared dish, then add a layer of lasagna sheets, breaking them to fit, covering as much surface area as possible.
Spread some more béchamel on top of the pasta, then pour about a cup and a half of the Bolognese over the top, spreading it out to reach the sides.  Add about 1/2 cup of parmesan spread evenly over the sauce.
Repeat this process, lasagna, béchamel, Bolognese and parmesan 3 more times, then add a final layer of pasta sheets and top with the remaining béchamel and parmesan.
Bake for about 30 - 40 minutes, or until the top is golden brown and bubbly.
Allow the lasagna to cool and set for about 25 minutes before serving.