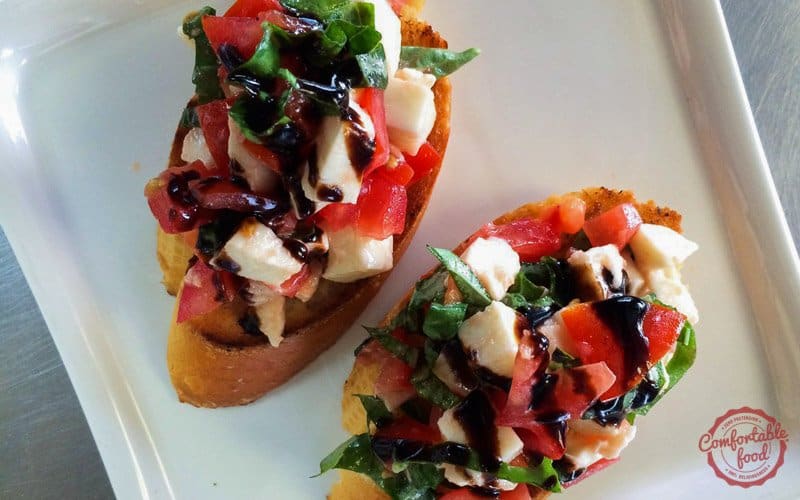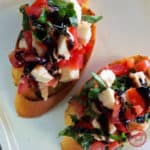 One of my favorite things about summer is the availability of fresh, perfectly ripe tomatoes. I know you can get great tomatoes year round, but local summer tomatoes are just amazing. I especially love tomato salads—and my favorite is the Italian caprese, with fresh mozzarella and basil. I decided to twist this classic salad a bit and turn it into a bruschetta appetizer.
My idea paid off, because this bruschetta is SO good. The bread makes it easy to eat as finger food, and provides the perfect crunchy base to contrast the fresh salad topping. These are perfect to serve at a BBQ, for a brunch, or even as lunch with a small green salad on the side.  This appetizer celebrates the flavors of summer and it's sure to be a hit at your next gathering.
(This recipe was originally published here on 07/10/2014)
Check out these kitchen essentials helpful in making this recipe:
Ingredients
how to
Slice the top off of the tomatoes, then cut in half. Remove as many seeds as you can, then cut the tomatoes into small pieces and put in a large bowl.

 Squeeze the ball of mozzarella to remove as much of the water as possible, then cube it into small pieces and toss with the tomatoes.

Gather all the basil leaves together, then slice thinly into small ribbons and add to the tomatoes and mozzarella. Drizzle with olive oil, sprinkle with some salt and toss together well. Put the bowl in the fridge while you toast the baguette.
Slice the baguette at an angle into ¾" pieces. Brush on both sides with some butter and either broil in the oven (be sure to turn them over once during cooking) or you can sear them in a hot skillet until golden brown.
Scoop a heaping amount of the tomato mixture onto each piece of baguette, sprinkle with a little more salt, drizzle with balsamic glaze and serve.