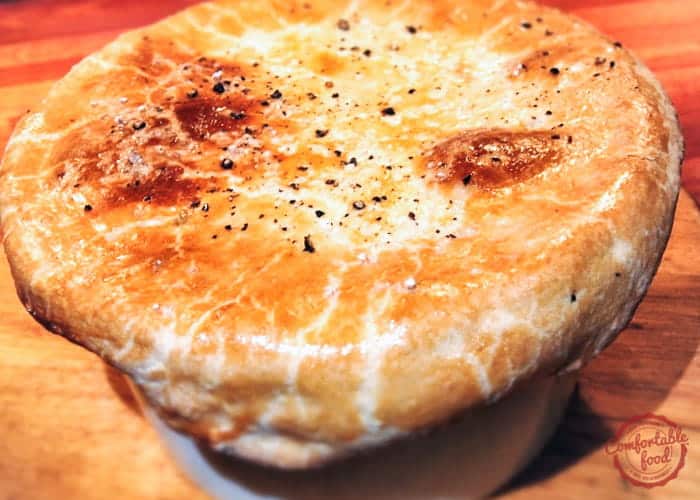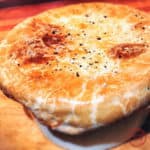 Fall is here, and Ricardo had the right idea baking this chicken pot pie the other evening, and he wanted to share the recipe.  I had the pleasure of enjoying it, and this recipe is a keeper, the filling was the perfect blend of creaminess and flavor.  The crust is perfect, so flaky, but firm enough to add a great texture to the pie.  I couldn't recommend more that you try this, and enjoy it on a cool fall evening with a great glass of Pinot Noir . .
Ingredients
how to
Preheat the oven to 375 F (190°C).
In a small saucepan, heat the chicken stock and dissolve the bouillon cubes in the stock.
In a large pot, melt the butter and sauté the onions over medium-low heat until translucent (about 10 minutes).
Add the flour and cook over low heat, stirring constantly, for about 2 minutes.
Add the hot chicken stock, and simmer over low heat for another minute, stirring contantly, until thick.
Add the salt, pepper, and double cream, and stir to incorporate.
Add the cubed chicken, carrots, peas, onions and parsley and mix well.
Divide the filling equally among 4 ovenproof bowls.
Divide the dough into four equal pieces and roll each piece into a 5 inch (20cm) circle.
Brush the outside edges of each bowl with the egg wash, and place the dough on top.
Trim the circle to ½ inch (1cm) larger than the top of the bowl.
Crimp the dough to fold over the side, and press it to make it stick.
Brush the egg wash on the dough and make 3 cuts in the top.
Sprinkle with sea salt and cracked pepper.
Place on a baking sheet and bake for 30 minutes, or until the top is golden brown and the filling is bubbling hot.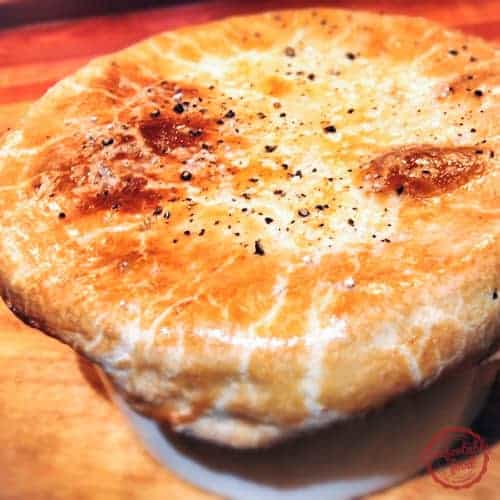 5

stars - based on

1

review(s)