These are the best sandwich cookies to make for the coming festive period! Festivities mean lots of treats, especially cookies, and you can make irresistible, mouthwatering sandwich cookies with these recipes.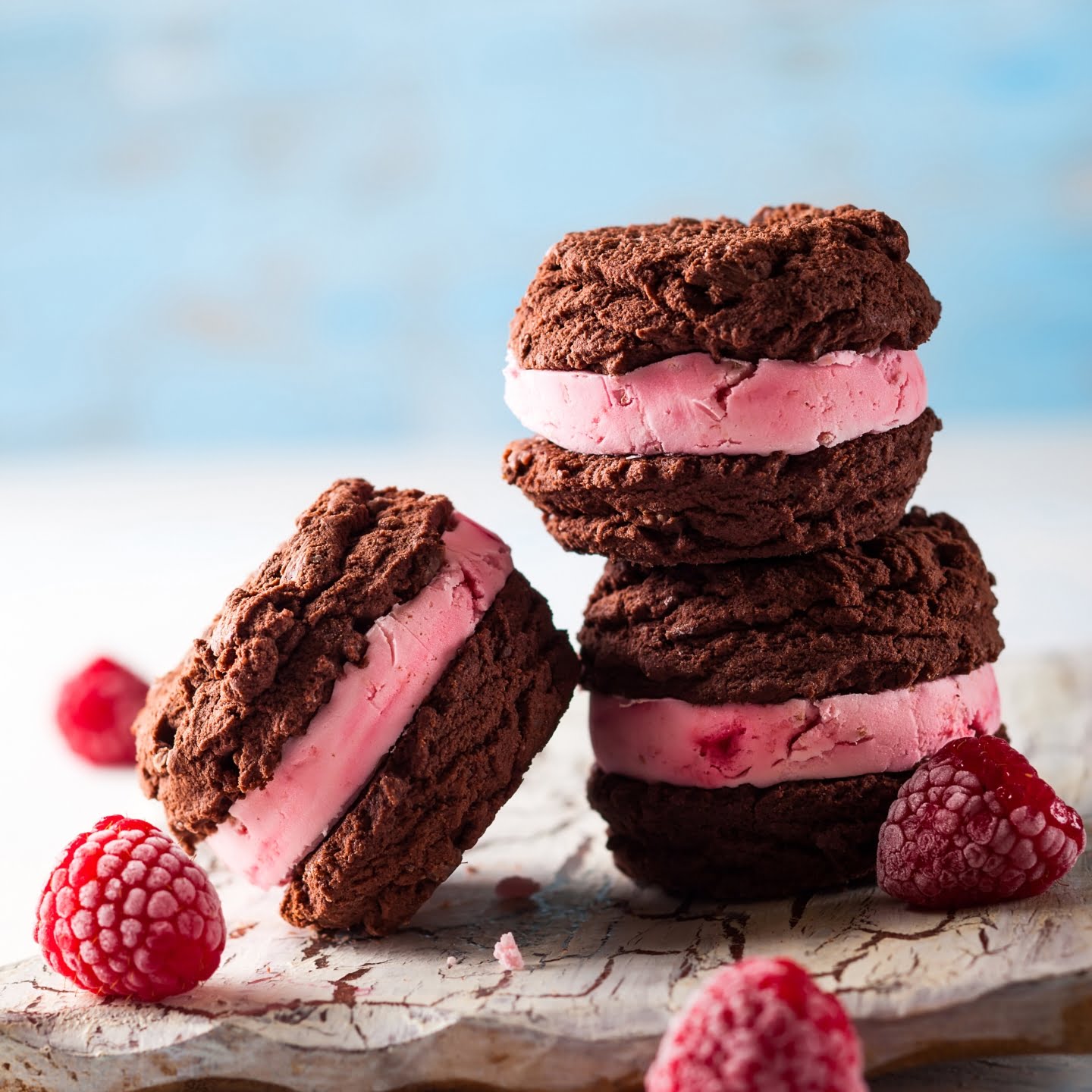 So, get your cookie dough ready to explore and discover your new favorite sandwich cookie recipes!
Starting the sandwich cookies list is the delicious oatmeal cream pie.
It's the perfect chewy cookie with buttercream filling to satisfy your cravings.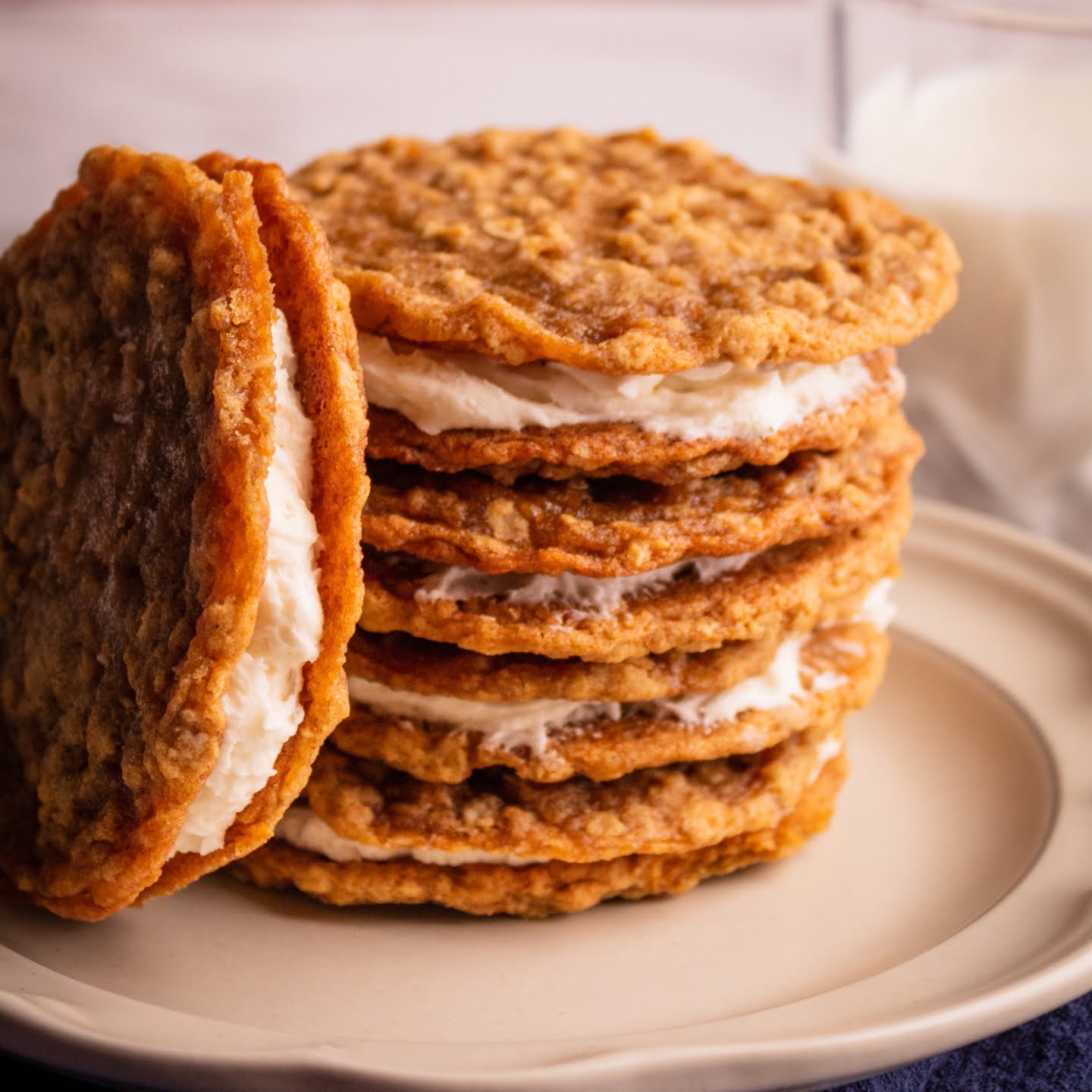 The oatmeal cream pie is a sandwich cookie with an absolutely delicious cream filling that sets the standard for others.
It's buttery, chewy, and crumbly and has a cookie sandwich filling of vanilla buttercream.
Make this for a family picnic or festive spread in just 30 minutes!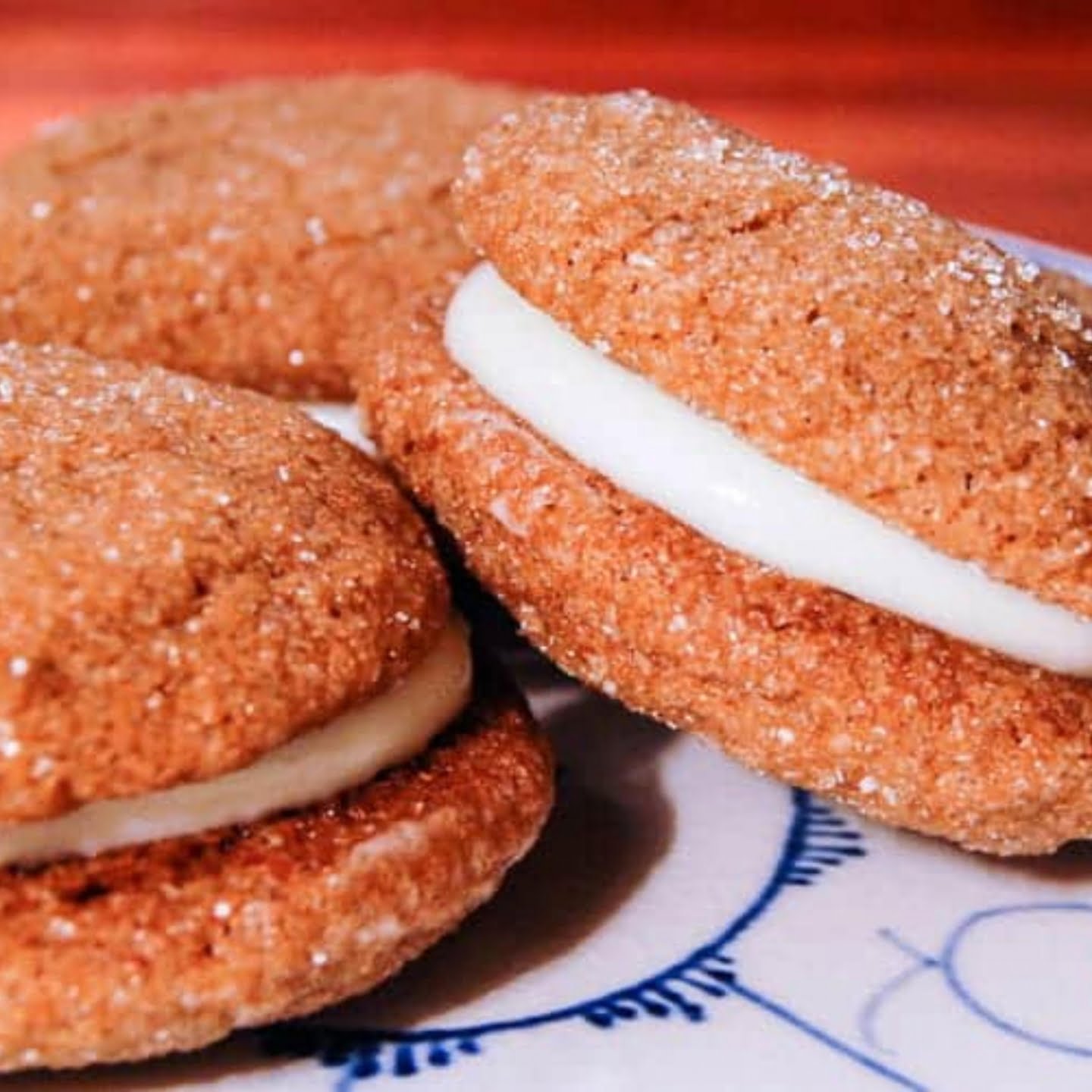 These ginger snaps with a creamy filling have the spice to make your menu absolutely wonderful.
The crunchy mix of cinnamon, powdered sugar, butter, eggs, flour, and molasses is unmatched!
You'll have these tasty cookies ready to serve and eat with a prep time of 30 minutes.
These Twix cookies are a simple recipe of sugar cookies with a frosting of creamy caramel and milk chocolate.
To make this delicious treat, use milk chocolate chips, butter, salt, vanilla extract, milk, egg white, and flour.
Bake for ten minutes in an oven and cool completely before serving.
Ice cream as sandwich cookie filling is unrivaled by any other type of filling, and it's evident in these chocolate chip cookie sandwiches.
The chocolate sandwich uses chocolate ganache, vanilla extract, brown sugar, unsalted butter, and your preferred ice cream.
Baking the cookies takes about 10 minutes, and you should allow them to cool completely on wire racks before incorporating ice cream filling.
This cookie sandwich ice cream filling is a simple recipe incorporating safe and healthy raw cookie dough with ice cream.
The cookie dough filled with ice cream is frozen to serve as the ultimate treat on your festive menu this Christmas!
These soft cookies will earn you cheers with the sweet combination of M&Ms and your favorite ice cream.
Get your stand mixer fitted with paddle attachment and mixing bowl to whip up your fluffy cookie dough.
Add your M&M sprinkles to the dough to chill for about 30 minutes. Line your cookie sheets with parchment paper to scoop your dough and bake. You should slightly undertake to get a soft M&M cookie sandwich with your favorite ice cream.
This oreo cookie ice cream sandwich will have everyone coming for seconds for its decadent flavors and texture.
It's super simple to make and requires a few ingredients, including kosher salt, cocoa powder, sugar, eggs, flour, baking soda, Oreo cookies, and ice cream.
This fantastic treat combines the amazing flavor of mint-chocolate chip ice cream with sugar cookies! It's a recipe you want to try on summer days for its absolutely refreshing feel.
Ingredients required for this ice cream sandwich cookie include flour, unsweetened cocoa powder, brown sugar, chocolate chips, flour, and baking soda.
Ensure to freeze before layering with ice cream and then another cookie. Repeat the process for the remaining cookies till you have enough.
The taste of coarse salt and the sweetness of caramel combines to make a delicious sandwich cookie filling for these cookies.
The salted caramel can be drizzled warm onto the cookies with salted sprinkles to complete the flavor profile.
You get a mix of flavors from this treat, combining oats/oatmeal, apple pie spice or cinnamon, apples, brown sugar, and your sandwich cookie dough ingredients.
This recipe takes a lot of time, but the delicious result is absolutely worth the effort!
This ice cream sandwich cookie recipe gives you a profile of flavors, including tart, sweet, and tangy. It's best on a hot summer day, giving you immediate satisfaction when served frozen.
These sandwich cookies require lime zest, lime juice, coconut milk, white rum, graham flour, dark honey, and dark brown sugar.
Top with cinnamon and sugar!
These cookie bars are everything you need to get the cheer going at your parties.
They're creamy, salty, sweet, and crunchy to satiate all your cravings in one bite.
The sandwich cookie recipe incorporates chopped walnuts, dark brown sugar, salt, vanilla, and other typical cookie ingredients.
The sandwich cookie filling of maple buttercream makes these cookies stand out from the other delicious cookies on this list.
With only five ingredients, you can get these cookies ready ahead of your main course.
These ingredients include almond flour, natural sweetener, maple extract, butter, and gelatin. After baking and cooling the cookies, spread half of them with the maple icing and top with the other.
With a delicate crispy exterior and chewy interior, these Nutella cookie sandwiches are best to have at a festive spread.
The cookies are made with almond flour, giving a flavor that compliments the delicious taste of Nutella.
Bake for long if you want a crunch cookie texture.
These are devil food cake cookies with a sandwich cookie filling of cream cheese frosting.
They're soft and chewy and should take you less than 35 minutes to make.
Top with sprinkles of your choice to enjoy!
The red velvet flavor in cookies is just unrivaled, and you'll love them with the cookie sandwich filling made od tangy cream cheese frosting.
The flavors will give you a dining experience like none other, and it'll most likely be your new favorite cookie recipe!
These cocoa cookies combine with an array of cookie sandwich fillings, including ice cream, ganache, and cream cheese frosting.
The ingredients required for these cookies are minimal, and you'll have the complete treat ready in less than an hour.
Macarons are cookies you make for special events and festivities for their attractiveness and decadent flavors.
This macaron cookie sandwich ice cream fits that profile, incorporating flavors from salted caramel ice cream.
You can use whatever flavor of ice cream you want and have these ready to consume in 50 minutes!
These snickerdoodle cookies are coated in cinnamon sugar and given a cookie sandwich filling of vanilla bean ice cream.
It's a treat to enjoy during warm seasons with minimal prep time and ingredients you can easily fetch from your pantry.
This ice cream sandwich cookie recipe is perfect for all occasions, giving you delightful and refreshing flavors.
The ingredients required to make the treat are minimal, but it takes a while to get it all together.
However, you'll love the result you get from the efforts given to it.
With this ice cream sandwich cookie recipe, you'll win the hearts of everyone who gets a bite.
It's a decadent treat with peanut butter ice cream that keeps on giving till the last bite.
You can enjoy these cookies immediately after making them or freeze them for one hour for a more solid texture.
If you have pumpkin leftovers from the holidays, it's time to put them to good use.
This cookie sandwich ice cream recipe incorporates soft pumpkin cookies with chocolate chips and vanilla ice cream.
They take only about forty minutes to make and can last up to three days when properly stored.
This cookie and cream ice cream sandwich is ideal for game days and feasts with your family and friends.
It incorporates stout and vanilla bean ice cream to give you unmatched flavors!
Serve the cookies with flaky salt toppings to enjoy. For simpler oatmeal-inspired deliciousness, check out this oatmeal raisin cookies recipe.
You'll absolutely love this cookie sandwich ice cream, combining flavors from raspberries, cream cheese, heavy whipping cream, vanilla bean, sweetened condensed milk, and cream of tartar.
It's best served chilled with your favorite sprinkles for more flavors.
See these delicious sugar cookies recipe for a simpler treat!
This ice cream sandwich cookie is a treat of peanut butter cookies with a filling of chocolate or vanilla ice cream, then dipped in melted dark chocolate.
The recipe takes only a few ingredients and should be enjoyed chilled.
See this non-sandwich variant of chocolate-dipped peanut butter cookies.
The cookie sandwich filling of these delicious cookies has a flavor that's hard to beat by any other.
This mascarpone ice cream filling goes great with the chocolate chunk cookies and the flaky sea salt sprinkling!
This ice cream sandwich cookie is a simple delicacy of baked lemon and raspberry-infused cookie dough with scoops of vanilla ice cream.
Its fantastic flavors make it ideal for summertime, and you can have it ready in only 22 minutes.
If you loved that combination of fruity flavors, you'd enjoy these cranberry-orange thumbprint cookies.
If you love brownies, you will enjoy this ice cream sandwich cookie recipe.
It's an ice cream sandwich cookie made of thin, chewy brownie cookies and heavy cookie butter ice cream scoops.
Ensure to freeze for two hours before serving.
This Ice cream sandwich cookie recipe wins at all dessert gatherings, standing out in texture, appearance, and flavors.
The baking process is a lot of fun, and you'd enjoy the pecans, cinnamon, and cayenne pepper add-ons to the ice cream flavor of your choice.
These are double chocolate cookies with a soft texture, incorporated with crunchy peanuts and filled with a vanilla marshmallow filling.
The filling requires just six ingredients, and the cookies take your typical double chocolate cookie ingredients.
The sandwich filling for these is bits of peppermint candy canes, making them the ideal cookies for Christmas!
The filling is between chewy chocolate cookies that will have you asking for more from the first bite.
These are peanut butter cookies with jam/jelly and vanilla ice cream as the sandwich cookie filling.
If you're a fan of PB&J, you'll absolutely love this as it's gluten-free and comes with a great profile of flavors.
In addition, you need only seven ingredients to have these ready.
You'll love this cookie sandwich incorporating chocolate and cherry flavors to make a perfect delicacy.
It's super simple to make with less than 30 minutes of prep time. Ensure to let it cool completely before spreading the cherry frosting.
You can go for these chocolate-covered cherry cookies for a simpler version!
It's game over with these Espresso cookies with a sandwich cookie filling of Mascarpone chocolate chunk ice cream.
This recipe is loaded with flavors and best served after freezing for at least 2 hours.
Citrus cornmeal cookies give distinct flavors that pair nicely with a sandwich cookie filling of strawberry ice cream.
The sandwich assemblage looks just as good as it tastes, and you'll have a lot of fun putting this together!
Sandwich cookie recipes takeaway
These are some of the best sandwich cookies to try during this festive period and other occasions of the year! Among other comforting things to bake, these cookies are guaranteed to give your menu the deserved sweetness and get you well-earned cheers. For more festive period food ideas, see these delicious phyllo dough recipes.
🍳 Related Hearty Recipes
Check out these hearty and cozy recipes to make in your next meals. Including my thumbprint cookies recipe.
Love this dessert recipe? Please leave a 5-star 🌟rating in the recipe card below and/or a review in the comments section further down the page.

Try one of my comfort dessert recipes for your next meal! And if you have any questions, I'm here to help!