These are some of the best shrimp pasta recipes to spruce up your pasta dishes! You can take a break from the typical chicken and beef pasta recipes and switch it up with shrimps. These dishes take no time to cook, and they'll have you coming for more with their amazing flavors!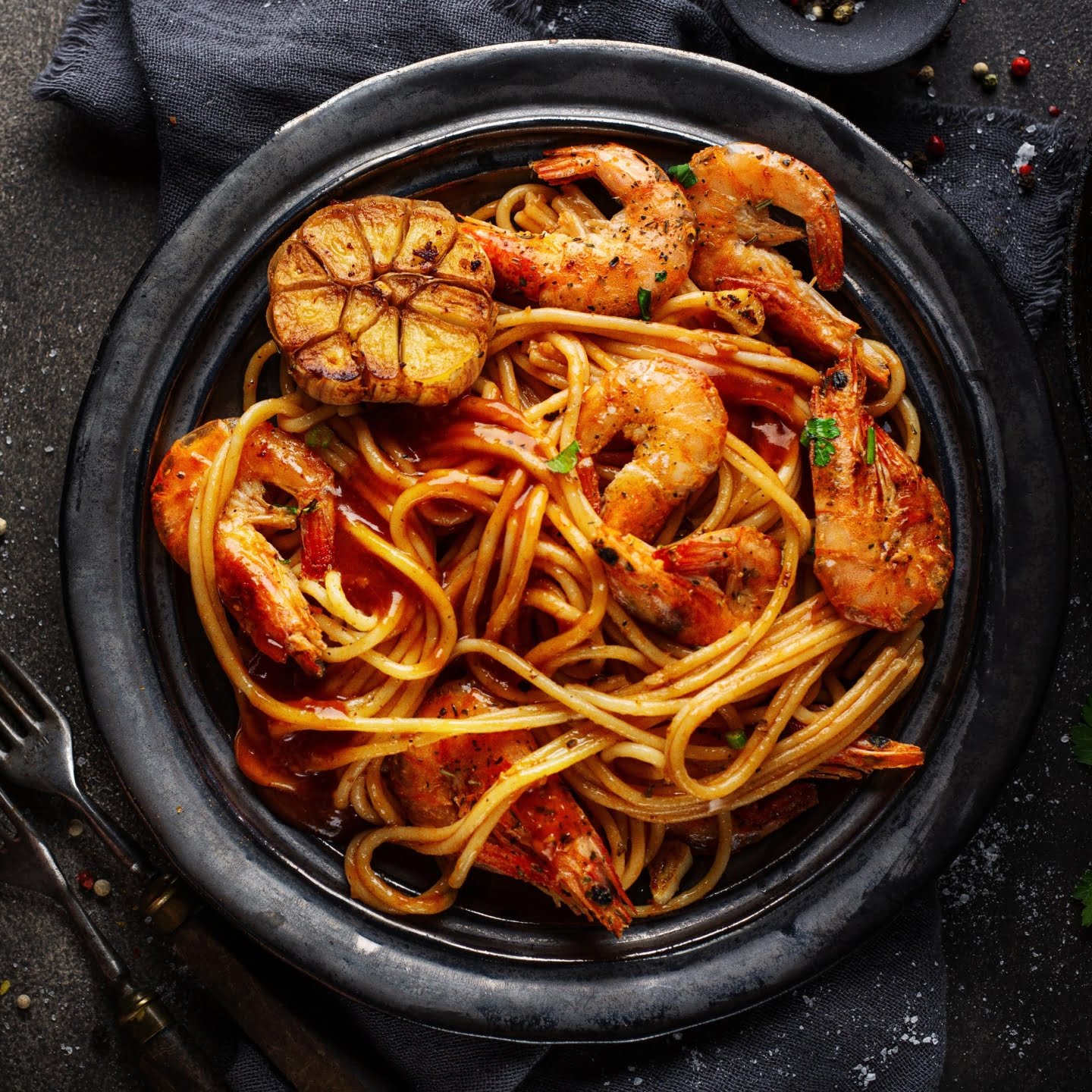 The best shrimp pasta recipe depends on your preference in the other shrimp pasta ingredients that go into the dish.
Whether you want creamy shrimp pasta or something "garlicky," our list has you covered to make that great pasta dish!
Learn more about different types of Pasta you can use for any of these meals.
So, get your recipe card, small or large skillet, and let's cook shrimp and pasta! The first on our list of these delicious recipes is the lemon garlic shrimp pasta, an absolutely delicious dish that's ready in 30 minutes.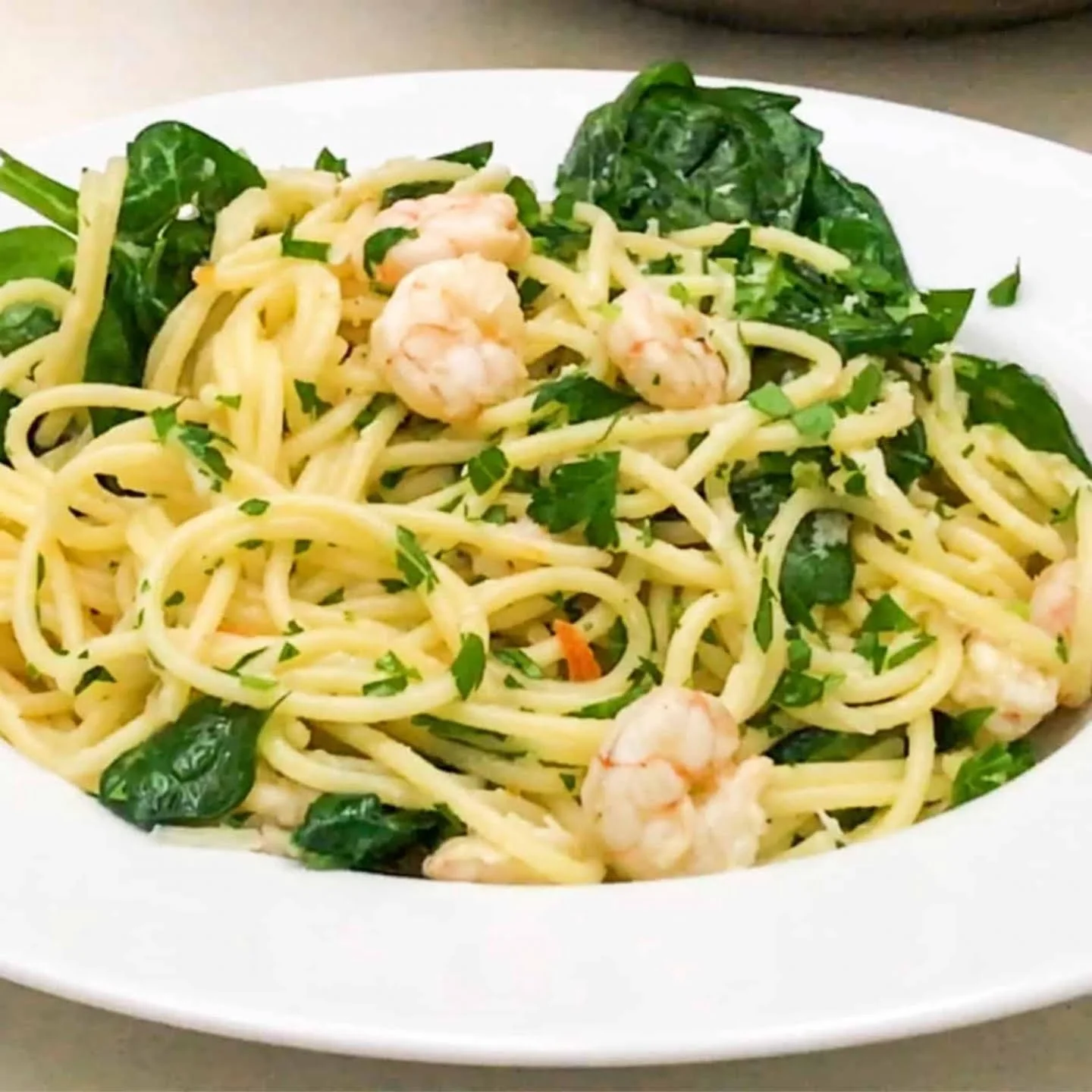 This great recipe requires only one pot and is perfect for a busy weeknight meal.
The pasta recipe ingredients include fettuccine, raw shrimp, grated parmesan cheese, lemon juice, baby spinach, red pepper, garlic, butter, salt and pepper.
Cook the pasta to al dente, about a minute less than the package instructions, and combine your other ingredients in a skillet before adding the pasta al dente. Learn more how to cook pasta perfectly for this meal.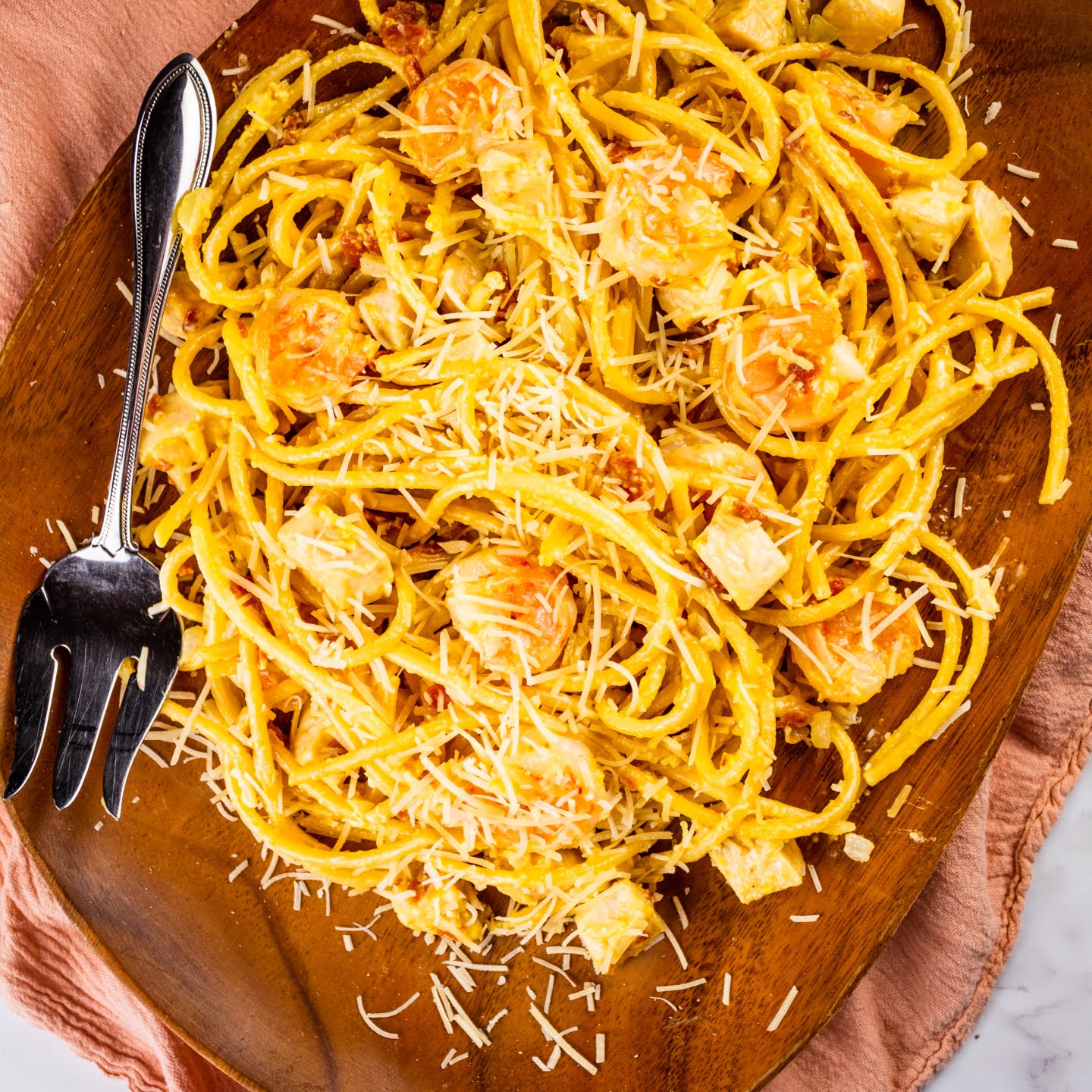 This Olive Garden's copycat recipe is what you want to have with your family, with the delicious chunks of cooked shrimp, chicken, and sublime cream sauce.
The dish only takes about 30 minutes to get ready and comes with ingredients you can easily fetch from the pantry.
These include al dente pasta, heavy cream, parmesan cheese, olive oil, bacon, garlic, shrimp, and chicken breast. You want to cook over medium heat, so your cooked pasta absorbs all flavors!
This shrimp pasta is also called the "brother devil." It gets that name for the spiciness you'll get in the pasta dish.
The sauteed shrimp are put in tomato sauce with a spike of red pepper flakes for that hot spiciness.
Garnish with fresh herbs, and serve with crusty bread, if desired.
The shrimp pasta primavera is perfect for any season with its rich flavors and vegetables.
Simply put, you're adding bright green veggies, plump shrimp, and fresh cherry tomatoes in garlic-lemon flavored sauce garnished with parsley and parmesan cheese.
Ingredients needed include chicken broth, lemon zest, fresh lemon juice, kosher salt, Italian seasoning, freshly chopped parsley, and a few others.
Do you want an easy shrimp pasta recipe tonight?
Then, the garlic butter shrimp scampi is the dish for you, with only 15 minutes to put it together.
The wonderful recipe lets you cook pasta with olive oil, frozen shrimp, lemon juice, and garlic butter seasoning mix.
If you're a lover of Creole or Cajun spices, this pasta recipe should be in your recipe notes.
It's a perfect pasta dish for dinner and incorporates many amazing flavorful ingredients. These include chicken broth, smoked paprika, cajun spices, andouille sausage, yellow onions, fresh shrimp, and fettuccine pasta.
You'll be alternating between medium-high heat and medium heat to have your pasta and shrimp completely cooked.
Although with no direct ties to any traditional Jamaican dish, this shrimp rata pasta is loved among several Jamaicans and many other people.
It's drained pasta cooked in spicy, flavorful pasta sauce with shrimps.
Your sauce takes ingredients, including fresh thyme, coconut milk, onions, green and red bell peppers, salt, and pepper. Serve immediately and enjoy!
Nothing screams a perfect weeknight meal better than this pasta recipe. The dish is rich in flavors and texture and only takes about 45 minutes to cook.
And if you're not a fan of Feta pasta, substitute it with any of your favorites.
Ingredients required include grape or cherry tomatoes, olive oil, minced garlic, medium shrimp, lemon juice, fresh basil, and baby spinach. Your reserved pasta water also plays an essential role in the preparation!
The seafood Lasagna is an absolute hit in whatever gathering you're making it for.
It's an assortment of seafood, including crawfish tails, crab meat, and shrimp, on Lasagna sheets, covered in creamy alfredo sauce.
It's an absolutely satisfying dish with all the chewy and cheesy goodness you'll encounter.
This is a super simple pasta dish to make with minimal ingredients you can fetch from your pantry.
It's with amazing flavors that'll make you feel like you're in the right Italian restaurant.
The dish incorporates Tortellini pasta, olive oil, garlic, shrimp, sun-dried tomatoes, white wine, salt, and parsley leaves.
Veggies, herbs, lemon, orzo, and cheese make up this delicious salad, perfect as a side dish or light dinner for your family.
It takes about 10 minutes to cook and combines amazing fresh flavors with each bite.
Couscous and shrimp also make a great combination alongside other ingredients, including capers, Kalamata olives, cherry tomatoes, vegetable broth, fresh garlic, feta cheese, and lemon.
The dish is very healthy and filling and has fantastic flavors with each serving. Garnish with fresh parsley, and enjoy!
This shrimp marinara is spicy, flavorful, and rich in texture! It's the pasta dish to have family gatherings with its wonderful taste and the fantastic condiments that go into its preparation.
The marinara sauce is seasoned and spiced with garlic, basil leaves, red pepper flakes, brown sugar, thyme, and parmesan cheese.
Add your pasta to the sauce, toss in your shrimp, cook for about two minutes, and serve hot!
A simple pasta dish to make in about 30 minutes that's rich in flavors and provides a healthy alternative to other pasta recipes.
This dish is rich in veggies to make your pesto, balanced with the flavors you get from the seasonings and shrimps you add to the mix.
Everything you love about Fajita is assembled in this pasta dish, from fajita recipe mix seasoning to fire-roasted tomatoes.
It's a fantastic dish rich in flavors from a combination of chicken broth, heavy cream, pasta, olive oil, bell peppers, onions, shrimp, fire-roasted tomatoes, and cheese.
Serve hot, and enjoy!
Pasta and shrimp in spicy, flavorful bang bang sauce is the shrimp pasta recipe to satisfy all your cravings.
It incorporates several ingredients that make the dish super-rich, creamy, and absolutely filling.
You can garnish with cilantro or parsley if desired. Serve hot, and enjoy!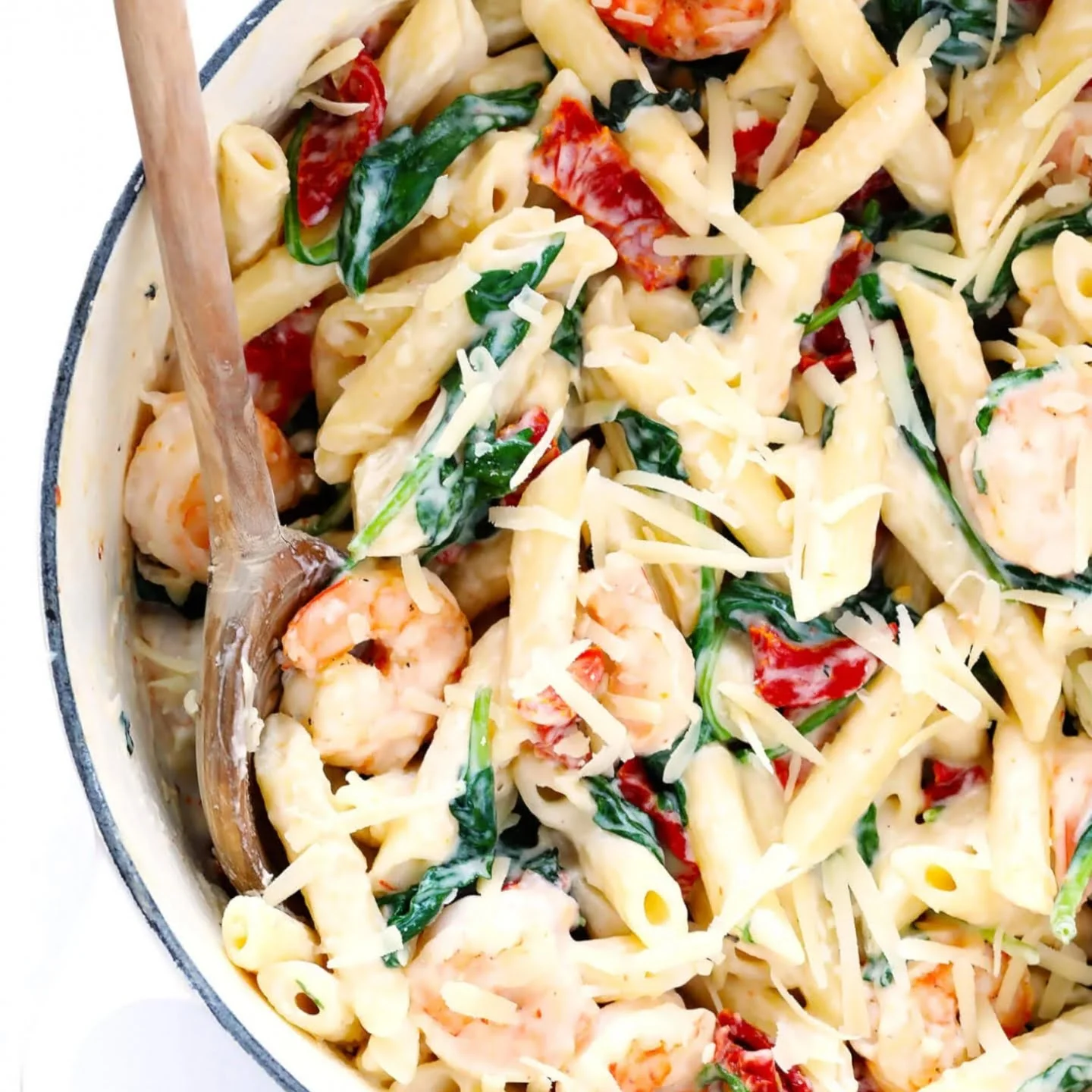 This dish is a combination of fresh basil, spinach, sun-dried tomatoes, and shrimp in a creamy garlic parmesan sauce.
It's super rich in texture and flavor and perfect for a date night with your partner.
Ensure every ingredient in your pan is coated with the sauce, and serve immediately!
Do you fancy Spanish cuisine? Then the seafood Fideua is the recipe to try today!
It's a classic dish from valencia, incorporating some of the best ingredients to make a delicious dish.
Get Fideus noodles or Angel hair pasta, raw shrimp, cod fillet, chopped clams with juice, tomatoes, smoked paprika, saffron, salt, pepper, and lime wedges to get the dish ready.
Whether as a side dish or a light dinner meal for your family, the shrimp macaroni salad is an excellent choice you won't regret making.
It's a mayonnaise-baed salad; hence it's best served cold with your hot main dish.
If you've ever tried the famous New Orleans Po' Boy sandwich, you already know this pasta recipe is a must-try!
It incorporates flavors from Cajun shrimp, fresh juicy tomatoes, pickles, and lettuce, coated with the delicious creamy Remoulade dressing.
You want to serve fresh to get all of the amazing flavors it offers.
This quick dish leaves you with impressive flavors, from the shrimp to the creamy sauce.
Ingredients that go into the sauce include spinach and basil, Italian seasoning, sun-dried tomatoes, lemon juice, heavy cream, garlic, butter, flour, and shrimps.
Serve the sauce over pasta, and enjoy!
You can't go wrong with Zucchini noodles and shrimp stir-fry for a lovely dinner with your family.
The pasta dish is gluten-free and gives a load of flavors from the seasoning and spices in the stir-fry sauce!
The blackened shrimp pasta is Cajun-inspired, and it's super creamy and velvety with chunks of juicy plump shrimps.
The dish gives bold flavors and will definitely bring life to your dinner table with each bite.
The herbs Creole seasoning is your secret ingredient, and you want to garnish it with parmesan cheese and fresh parsley.
If you've always wanted to try something new with pasta, this is the recipe for you!
It's super easy to make with pantry essentials and a few seafood ingredients.
You'll be done with the dish in about 30 minutes, and you want to serve it hot with garlic bread.
This dish will put a smile on the face of anyone who takes a bite.
It's rich, creamy, and flavorful with the various ingredients used in its preparation.
The ingredients are minimal, and you can get it ready in about 30 minutes!
Conclusion
These shrimp pasta recipes are all you need to make a delicious shrimp pasta dish for any occasion. They're fairly inexpensive to cook and will serve you excellently at any time of the year! For more pasta ideas check out my gemelli pasta recipes.
🍳 Related Recipes
Try one of these comfort food recipes in your next meal. Including my best pasta recipes with few ingredients.
For more pasta ideas check out my leftover pasta recipes.
Love this recipe? Please leave a 5-star 🌟rating in the recipe card below and/or a review in the comments section further down the page.

Try one of my comfort dinner recipes for your next family meal! And if you have any questions, I'm here to help!