If you are a big fan of mexican food like me, then this list of authentic mexican ground beef recipes is perfect for you to make delicious meals.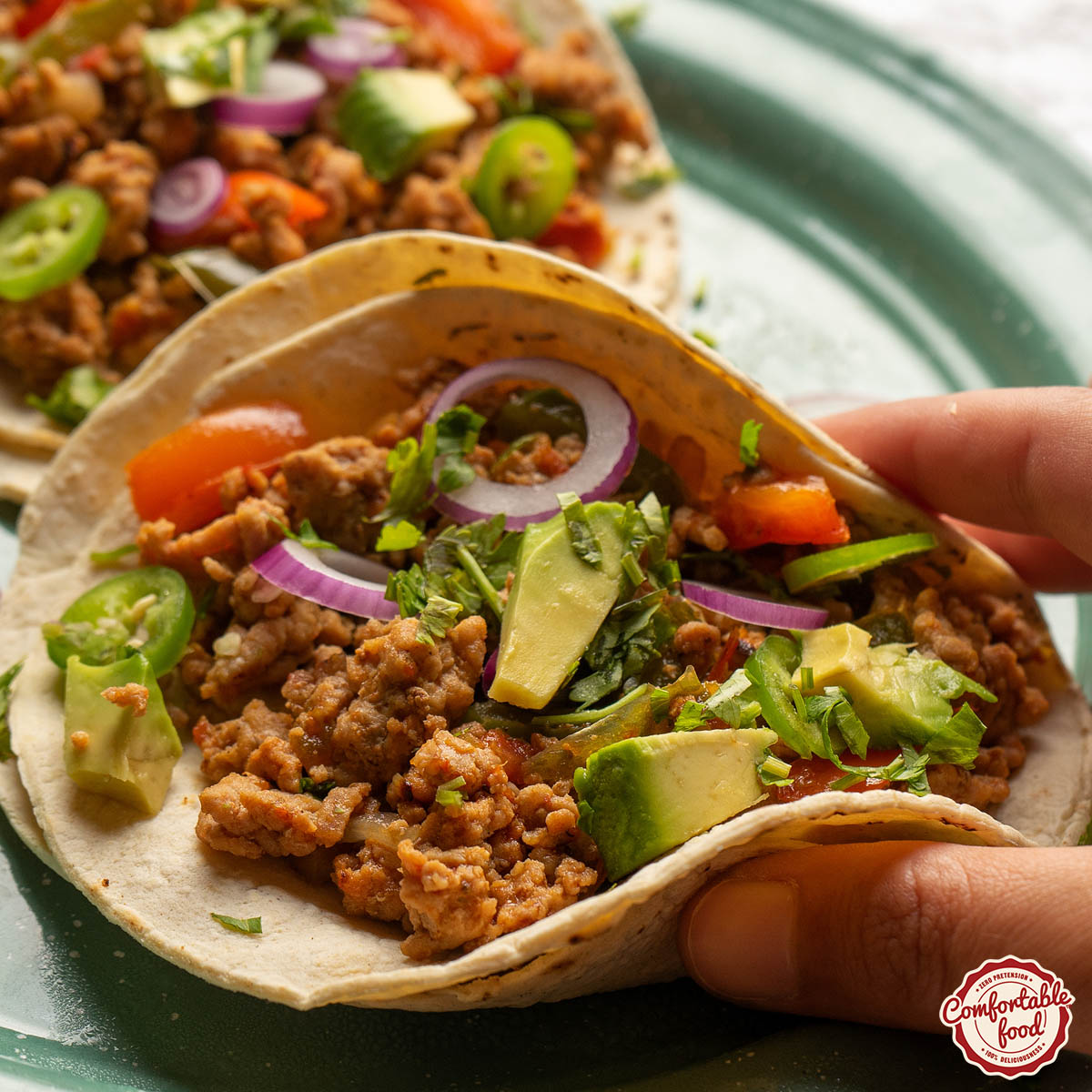 Ground beef in Mexican cuisine has produced some fantastic dishes, from beef tacos to beef empanadas. However, you can make many more dishes with ground beef, and this list has all the authentic Mexican ground beef recipes you can hope for.
And if you're specifically looking for Mexican soups, be sure to check out our list of Mexican soup recipes. Or for more soup ideas, explore our collection of easy soup recipes with few ingredients.
These Mexican ground beef recipes combine ingredients that bless your dishes with flavors and textures to share with your family and friends.
The list includes easy recipes you can quickly put together on a busy weekday and recipes that require you to be elaborate. Regardless, you'll be left with a super tasty meal at the end of the day. For more ideas check out my Latin food recipes.
To kick off our list of authentic Mexican ground beef recipes is the family favorite, the Taco casserole.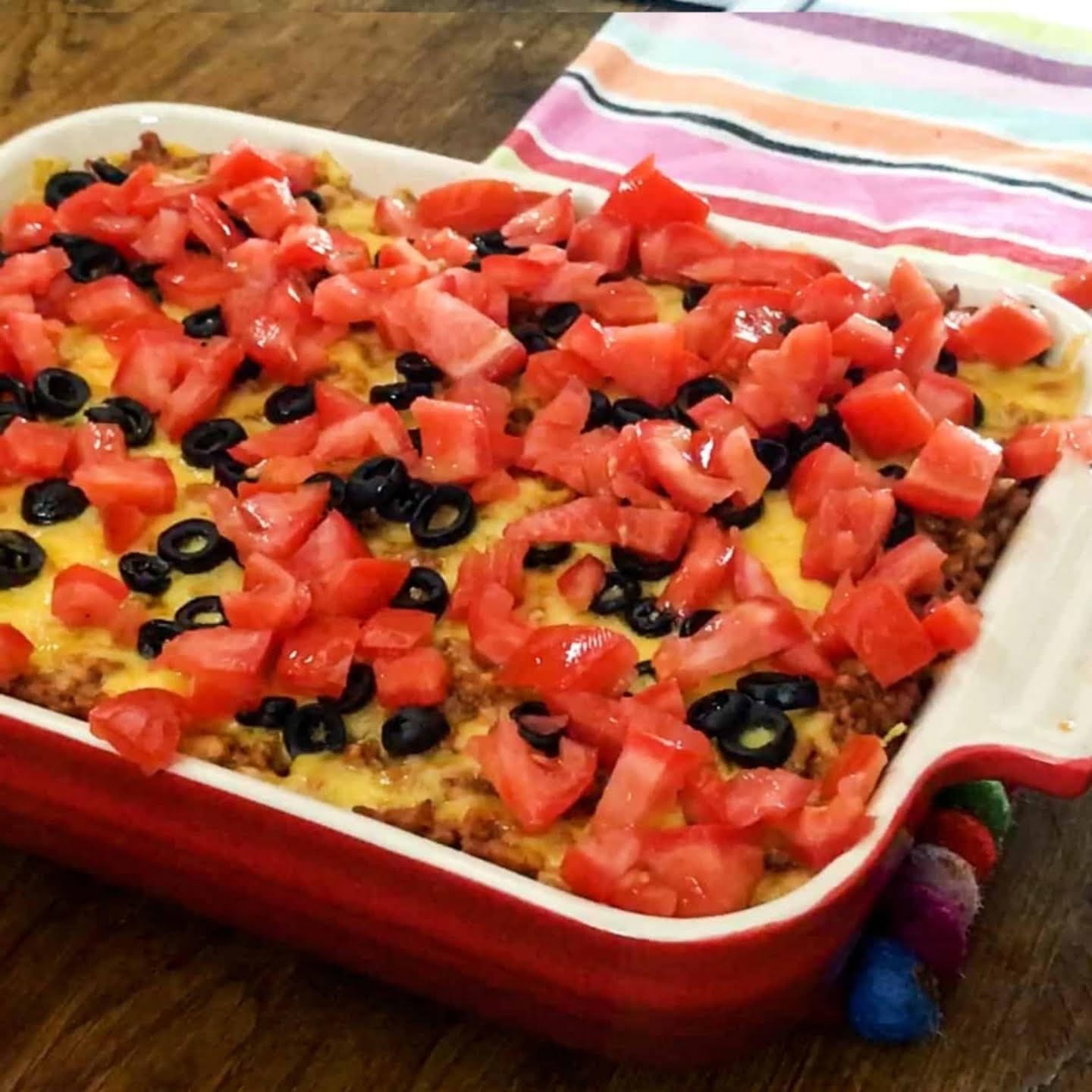 The Taco casserole makes for a fantastic dinner with the family and can be ready in under an hour.
It's super yummy with the delicious ingredients that make up the recipe, including refried beans, ground beef, taco seasoning, corn chips, tomato paste, and cheese.
Get your large skillet to begin cooking over medium heat and have yourself a tasty casserole dish at the end.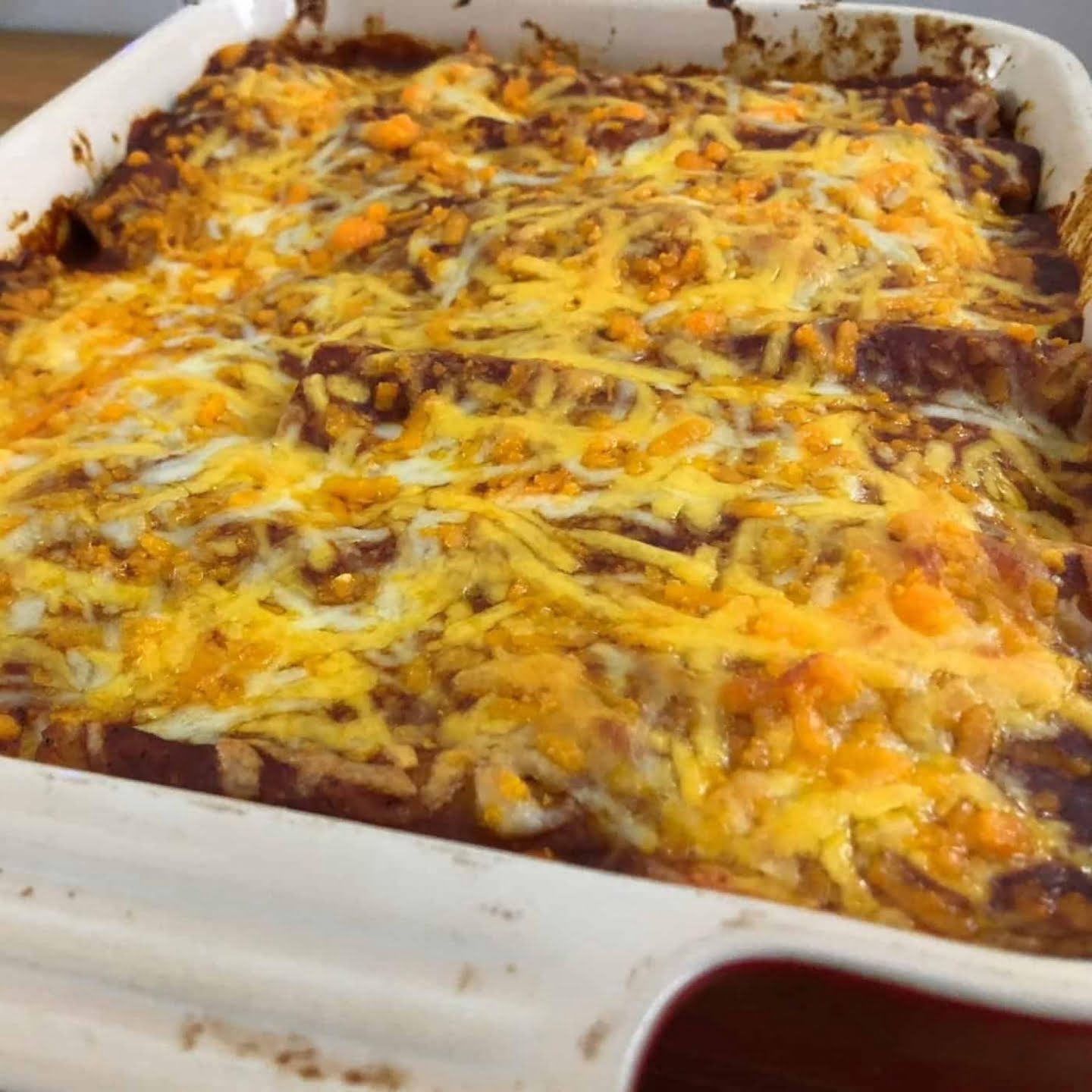 This Mexican ground beef casserole is super easy to make and involves an array of flavorful ingredients you can quickly grab in your pantry.
You can make this yummy, creamy deliciousness ahead by keeping it in the freezer for days before you bake it.
Your key ingredients for this ground beef recipe include corn tortilla, enchilada sauce, spices, cheese, and Mexican seasoning.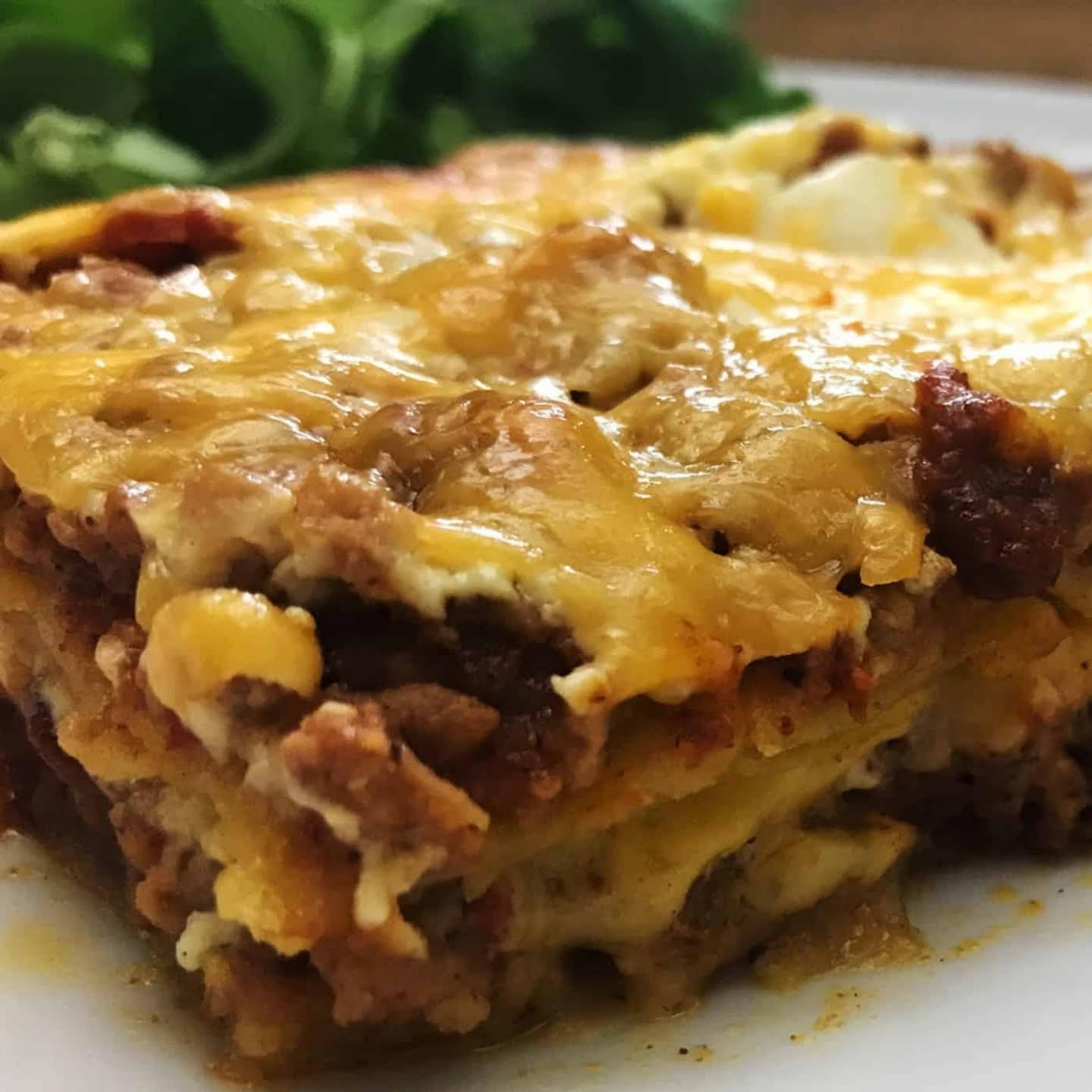 The Mexican lasagna enchilada is a complete dish of succulent meat mixture, shredded cheese, and crispy corn tortillas.
The Mexican ground beef recipe suits the family and social gatherings for an unforgettable dining experience.
Key ingredients in the dish include red enchilada sauce, olive oil, sour cream, cheddar cheese, diced tomatoes, corn tortillas, ground beef, and taco seasoning. Add garlic and jalapenos also for a bit of spice and excellent aroma.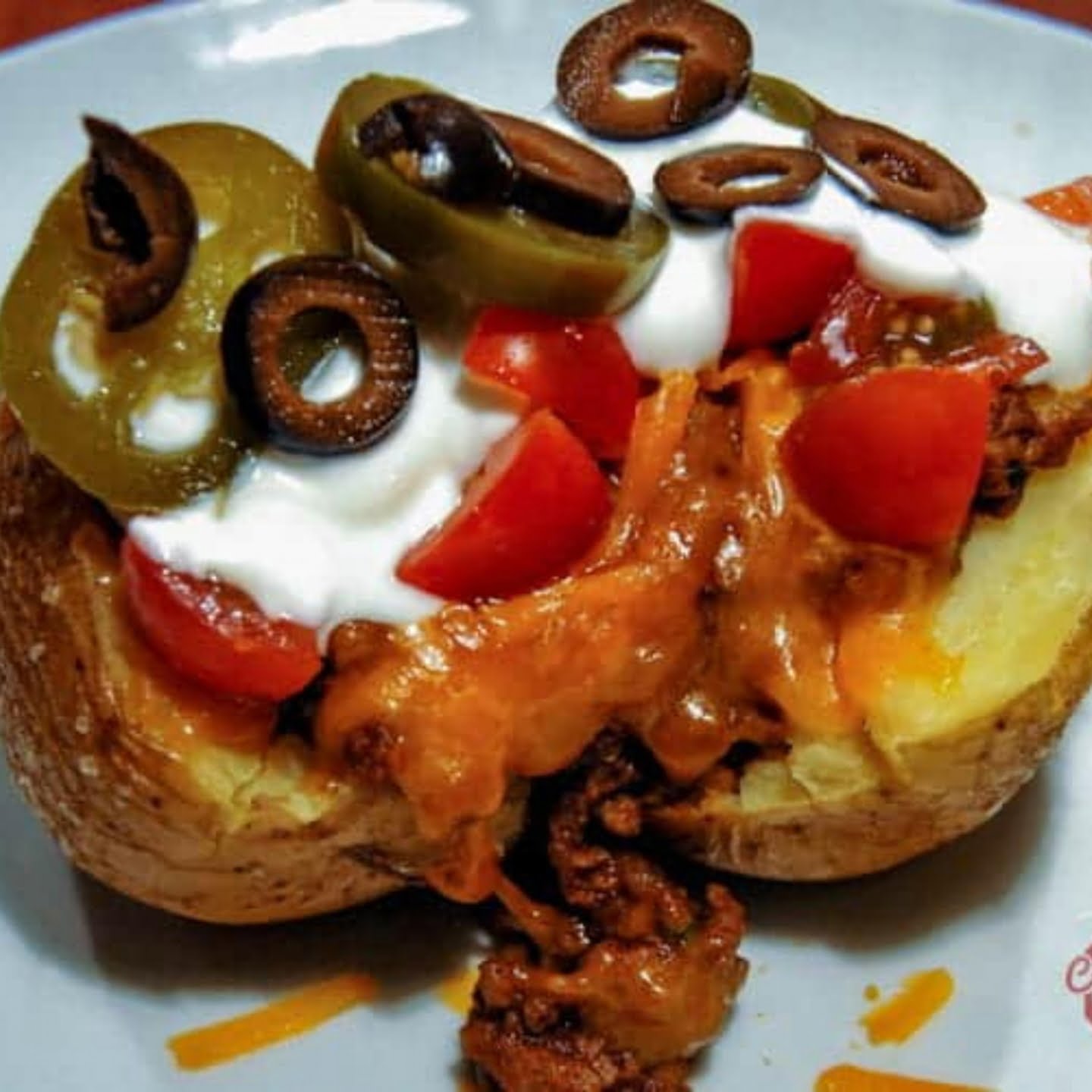 4. Taco Baked Potatoes
Ground beef tacos remain a classic Mexican food that's easy to make and gives a mouthful of flavors till the last bite.
Your potatoes are the first to bake before adding all your ingredients in the same skillet over your baked potatoes.
Heat olive oil or vegetable in a large skillet, and add ground beef with every other seasoning and spices to make your taco meat. Taco Tuesday doesn't get better than this, especially when served with sour cream, jalapenos, salsa, or black olives.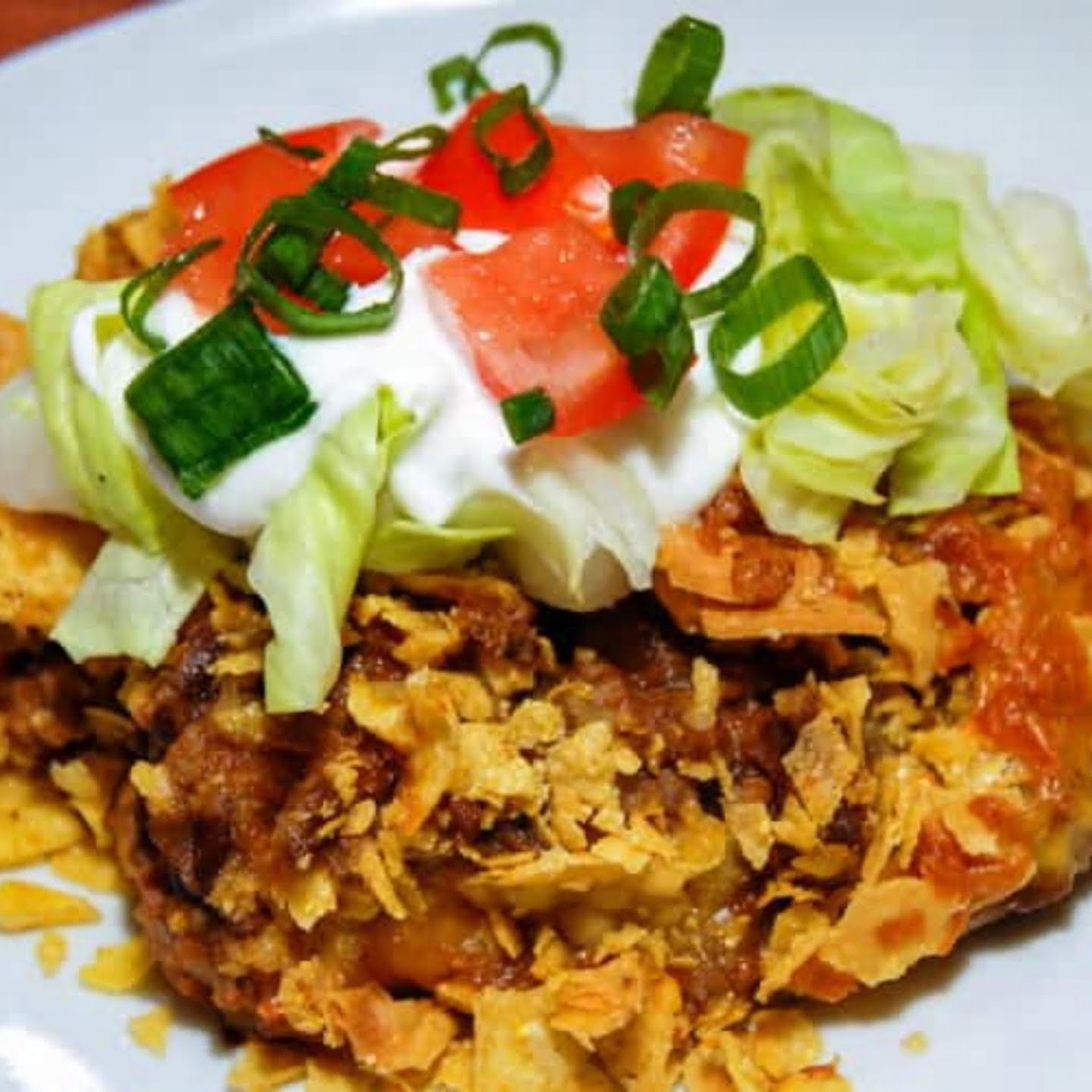 This is one of the delicious recipes with unique textures and flavors in every bite.
The enchilada pie gives several layers of deliciousness from the enchilada filling of seasoned ground beef, refried beans, cheese, and spices.
This filling is served with crushed corn tortillas, avocado, green onions, and other favorite toppings of your choice.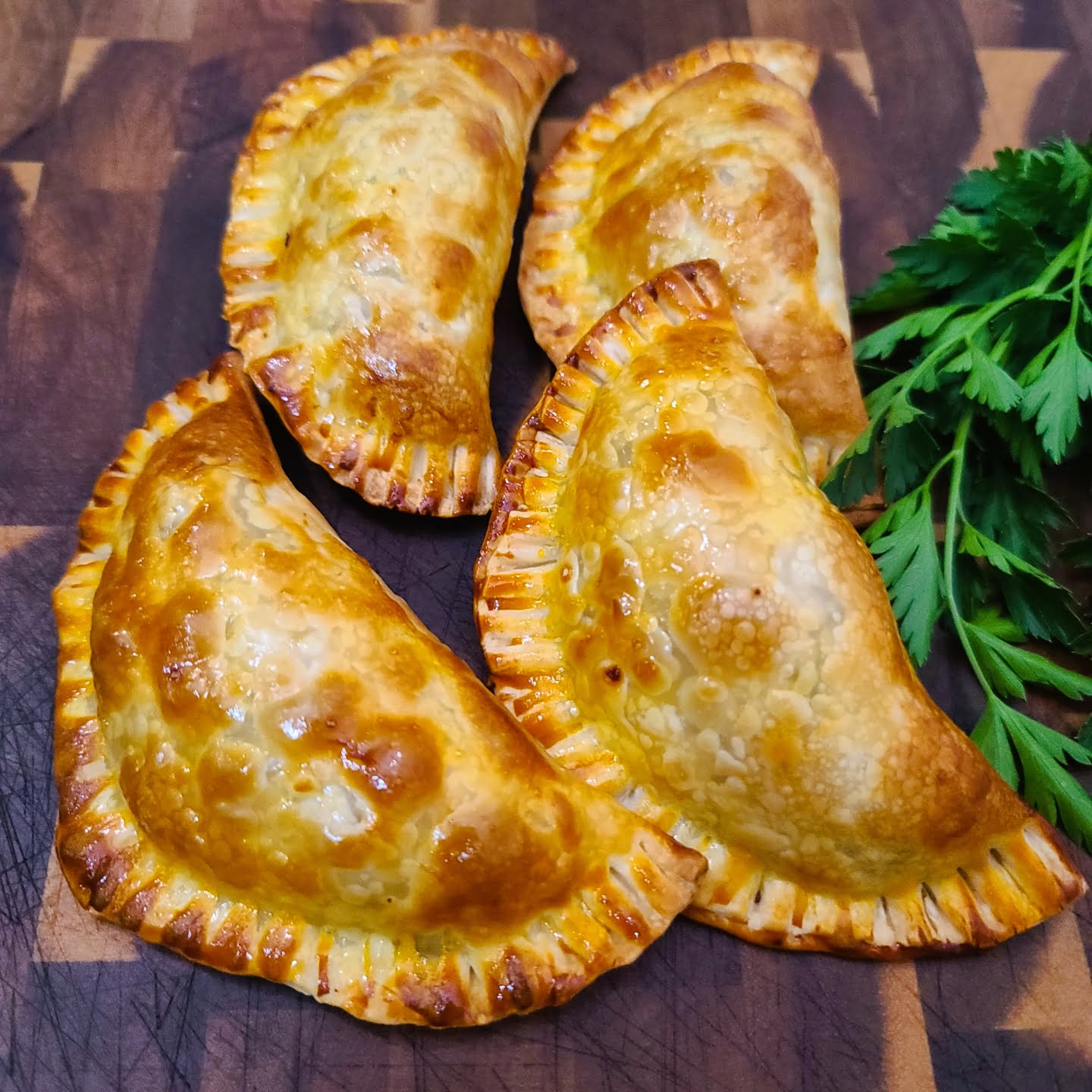 Empanadas are classics in Mexican cuisine, and the baked beef empanada has a filling of seasoned beef, boiled eggs, and a host of spices.
When baked to perfection, the crunchy crust blends perfectly with the delicious filling to give the ultimate ground beef snacks for the whole family.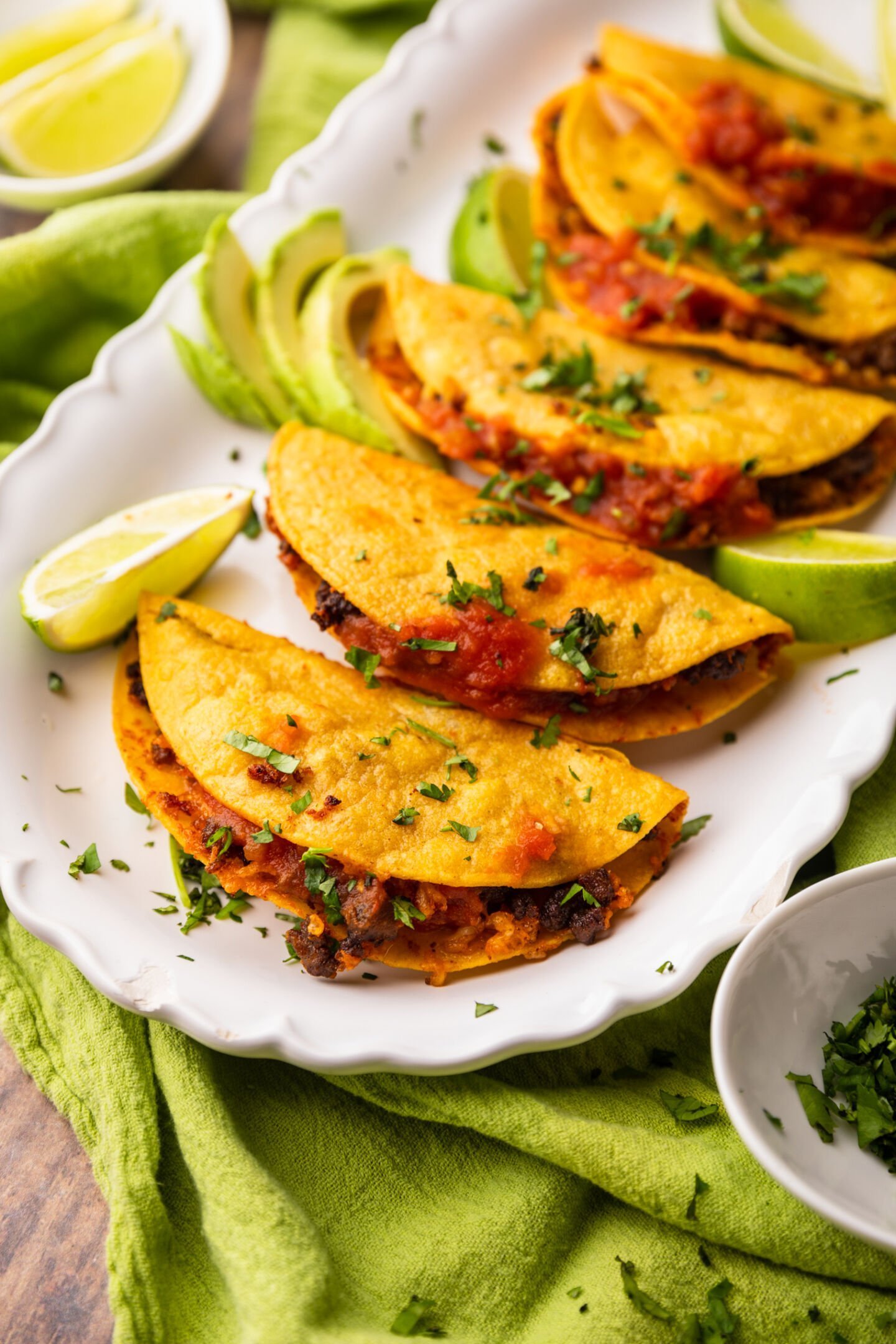 Fried taco is a favorite with everybody, and nothing says taco night better than this delicious recipe.
Put all your ingredients in the same skillet till it's fully cooked, and serve with soft tortillas or taco shells.
For picky eaters, you can tweak your taco filling as you wish till you get the perfect spread. However, the classic recipes include soft tacos, shredded cheese, lettuce, diced tomatoes, ground beef, and taco seasoning.
The Taco salad is another classic that gives you all the good flavors of taco mix in a bowl.
You can get different textures from the crunchiness of the tortilla chips and the meaty mix of ground beef, veggies, cheese, and sour cream.
The veggies make an essential part of the dish and can include red, green, or yellow onion, red bell peppers, kidney or black beans or pinto beans, sweet corn, and jalapenos.
The Mexican ground beef skillet is super tasty and leaves room for different ingredients to make the dish to your taste. So get a large skillet and start browning your ground beef until it's well cooked to add other ingredients.
These include red or green bell pepper, onions, beef broth, pinto or black beans, white or brown rice, and seasonings. Cook till rice is tender, and garnish with chopped cilantro, avocado, olives, or sour cram.
Also, ground turkey or chicken makes a good substitute if you're without ground beef.
These Quesadillas are gooey, yummy, and filling with absolutely delicious flavors. The texture and flavor layers you'll discover from every bite will have you coming back for more.
Season and cook your ground beef with spices, seasoning, beef broth, and cheese till they're ready to fold into tortillas. Continue cooking till the outside is brown and the cheese has melted to serve and enjoy.
These tamales are made by wrapping ground beef filling in corn dough made from corn husks.
Ingredients you'll meet in the dish include potatoes, carrots, olives, raisins, tomatoes, and pepper salsa.
You can serve the tamales with refried beans or salsa.
Regular burritos are a classic with Mexican recipes, and with the burrito bowl, you won't have to worry about dinner tonight.
The meal is flavorful and can be tweaked to accommodate endless possibilities.
The recipe includes a variety of ingredients that you might have to run to your grocery store to get, but the meal prep time typically takes 30 minutes.
This soup gives flavors you'll get from a traditional burrito, combining beans, rice, tomatoes, taco seasoning, tomato sauce, and ground beef to make a delicious meal.
The recipe takes about an hour to cook, and when stored in the fridge overnight, it tastes even better.
This is not the regular pizza dish you make with pizza dough, as it's a layer of seasoned ground beef and refried beans sandwiched between flour tortillas.
These tortillas are then topped with cheese, tomatoes, jalapenos, and green onions.
Making Mexican pizza takes only about 20 minutes and will serve as the perfect comfort dinner on a busy night.
These beef chimichangas are also fried burritos for how they're made and served with sour cream or easy guacamole for dipping.
Simply fill your flour tortillas with seasoned ground beef, jalapenos, and diced onions, then fry with the flour tortillas.
Ensure your beef is cooked correctly before folding it into the tortillas.
Tostadas are excellent for celebrating Cinco de mayo and incorporate wonderful flavors to create beautiful moments with your family and friends.
The dish is composed of crispy baked corn tortillas with ground beef, refried beans, fresh tomatoes, and onions.
Top it with crema, queso fresco cheese, and avocado slices for the best texture and flavor.
The seasonings, ground beef, and beans define this delicious bowl of chili.
It's the ultimate Mexican food for a cold night and be served hot alone or with your favorite toppings.
This dish with an easy roasted tomato chili sauce is the show-stopper at any gathering. It comes with flavors and spices that guarantee no leftovers.
However, you'll need several ingredients that might require you to run to your grocery store to get them.
However, the majority are the seasonings you get to use, the large poblano peppers, cheese, heavy cream, tomato sauce, and chili powder.
This cheesy taco pasta is a one-pot dish, and we particularly love one-pot dishes for the ease of cooking them.
You can cook this meal in about 30 minutes, and it gives a mouthful of flavors and texture from the seasonings, cheese, and toppings.
The food accommodates toppings, including avocado, chopped cilantro, tortilla chips, and chopped tomatoes.
Taquitos can also be referred to as rolled tacos, and they're an excellent choice on busy weeknights with easy-to-get ingredients and minimal cook time.
The main ingredients to make the food include ground beef, spices, Mexican cheese, avocado oil, refried beans, salt, and pepper.
Serve with favorite toppings.
The picadillo is a simple meal of ground beef and potatoes simmered in tomato sauce.
Your tomato sauce takes all the seasoning, spices, and flavor for the potatoes to soak in the flavors.
Serve it with rice or warm tortillas, and enjoy!
Taco's versatility is impressive, and in soup form, it is perfect for chilly nights. It's tasty and rich in nutrients from the ingredients that go into its preparation.
Making the classic taco soup requires ground beef, diced onions, Rotel tomatoes, diced tomatoes, canned corn, kidney beans, ranch seasoning mix, and taco seasoning.
Top the hot bowl of delicious soup with cheese, taco sauce, or sour cream.
The beef nachos supreme is the Mexican dish you want to have with your family on a lovely game day.
It's flavorful in every bite and gives delighting textured from the combination of the ingredients.
These ingredients are tortilla chips, refried beans, ground beef, and seasoning. Sprinkle the hot dish with green onions or diced tomatoes and serve immediately.
Mexican meatballs are a delicious mix of ground beef and pork in an assortment of spices, seasonings, white rice, and tomato-chipotle salsa.
These meatballs are cooked in salsa with carrots, squash, and potatoes.
You can serve it with tortillas, rice, or beans for a fine dining experience.
The Frito pie is made from ground beef, pinto beans, taco seasoning mix, tomato sauce, sour cream, corn chips, and cheddar cheese.
The flavors you get from these ingredients as you mix and bake guarantee no leftovers.
It's the perfect Mexican dish at family and friends gatherings if you want to leave an impression. Garnish with sour cream, serve hot, and enjoy.
The cheesy taco skillet is an easy dish that can be made in one pan in under 30 minutes.
This food is flavorful and leaves everyone at the dinner table with a beautiful smile.
Ingredients needed include ground beef, yellow onion, diced tomatoes, zucchini, taco seasoning, spinach, kale, and shredded cheese. Garnish with green onions, serve hot, and enjoy.
This dish combines pasta shells and tacos to make a creamy, flavorful dish that's sure to become a family favorite.
The ingredients required to make the Mexican meal are minimal, and it can be cooked and ready to serve in under an hour.
Your key ingredients include jumbo pasta shells, ground beef, diced tomatoes, garlic cloves, bell peppers, taco seasoning, and cheese. Serve the dish warm with your favorite toppings.
The taco stuffed bell peppers is a meal that complies with keto, has low carbs, and is gluten-free.
Healthy as it is, it's super delicious as it combines ground beef, salsa, melted cheese, and sour cream to give yummy flavors.
Serve hot and enjoy with your family on a cold night!
The baked taco rollups are flour tortillas baked with meaty taco fillings.
The savory flavors of the filling come from ingredients including ground beef, onion, green chiles, tomato sauce, taco seasoning, tomato sauce, and cheese.
Serve hot with the condiments of your choice.
The cheesy taco bake is a delicious meal that's super easy to make and will leave you and your family happy after dinner.
The bake is flexible and can feature veggies and condiments of your choice.
Serve it warm with olives, lettuce, sour cream, or tomatoes.
Mexican ground beef recipes
These Mexican dishes made with ground beef are definitely leaving a smile on your face regardless of what recipe you pick. So, give yourself and your family that lovely treat by grabbing your ground beef, seasonings, and spices, and start cooking in that skillet!
🍳 Related Recipes
Try one of these fantastic comfort food recipes in your next meal. Including my collection hearty breakfast casserole recipes and my best mexican soup recipes.
If you are traveling across the country and looking what to eat in a specific state, then check out my list of best american comfort food per state.