These are the best cinnamon toast crunch recipes to make quick breakfast dishes and delicious snacks! The incredibly sweet and sugary flavors of cinnamon toast crunch make it the perfect recipe for many dishes and desserts.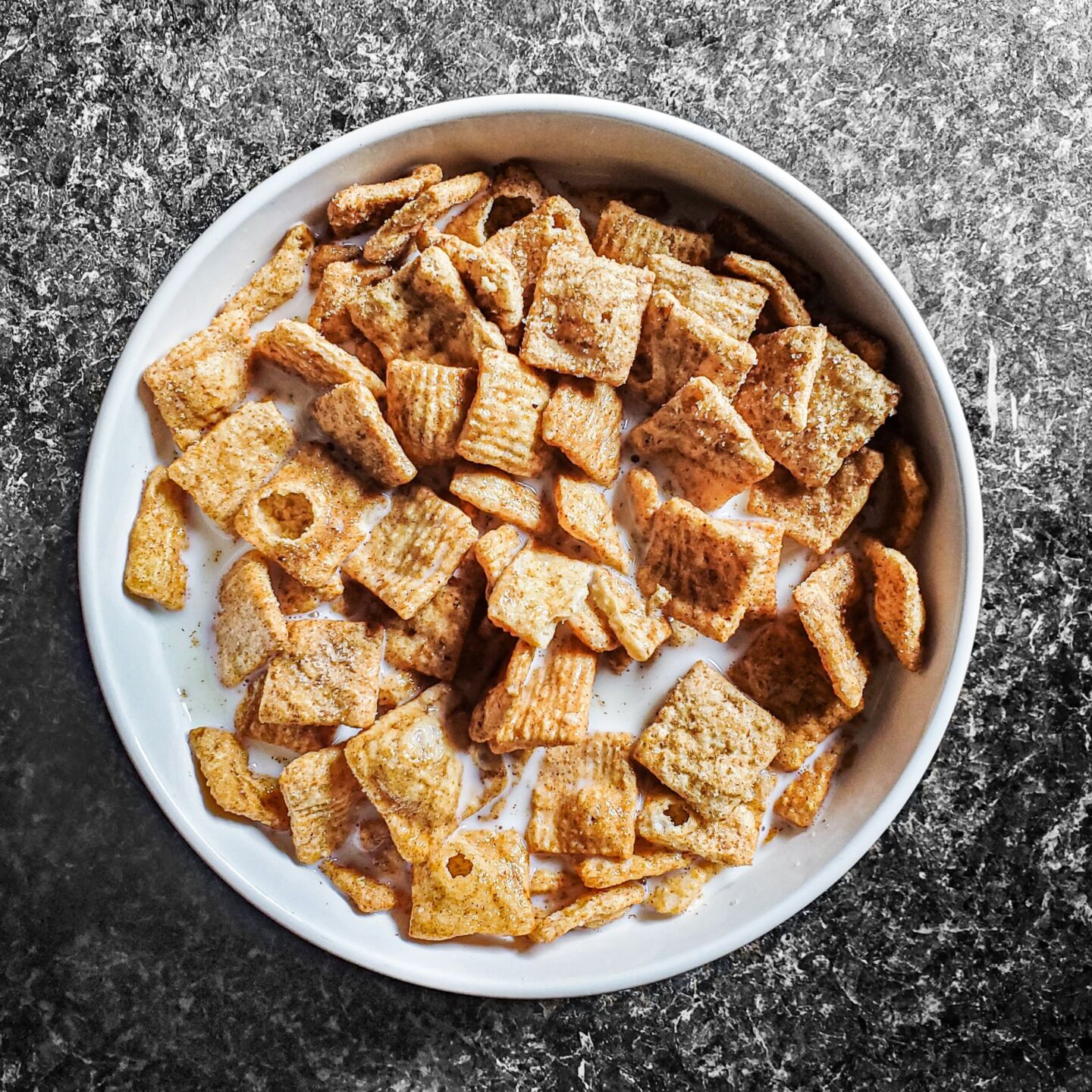 You'll come across cookies, cakes, pancakes, French toast, and even bread pudding made with cinnamon toast crunch, which is sure to become your new favorite treat.
We start with the delicious treat of cinnamon toast crunch waffles. A super easy and delicious breakfast to start your day right!
This recipe incorporates your delicious waffles with an unmatchable cinnamon toast crunch flavor.
The easy recipe incorporates the sugary cinnamon toast crunch cereal with your regular waffle-making ingredients.
Make the glaze with sugar, cereal milk, and cinnamon, and serve hot to enjoy.
Give yourself a delightful treat with this ice cream, giving you mild cinnamon and sugary toast crunch flavors.
It's made with cinnamon toast crunch cereal, whole milk, brown sugar, half & half, whipping cream, sugar, salt, and cinnamon.
Make this in an ice cream maker and top it with extra cereals.
These homemade cereal crunch bars are the sweetest and easiest snacks to make for the family.
It uses only three ingredients, including marshmallows, butter, and cinnamon toast crunch cereals.
It takes only ten minutes to cook, and you should let the crunchy bars cool completely to serve.
Make cinnamon toast crunch rice crispy treats, and watch them become your family's new favorite recipe!
The sweet treat combines marshmallows, rice krispies cereal, vanilla, cinnamon toast crunch cereal, and melted butter to give a load of flavors.
This takes just 15 minutes to make, and you can enjoy them immediately after cooling.
Get your cookie sheets to make these delicious cinnamon toast crunch cookies with irresistible cinnamon flavor and cream cheese frosting.
Fetch your regular cookie ingredients with ground cinnamon, cornstarch, and white chocolate chips to bake this deliciousness. Glaze with the cream cheese frosting and top with more cereals.
See more cookie ideas with our fantastic French cookie recipes and amazing sandwich cookie recipes.
These pancakes are made with a batter of crushed cereal, maple syrup, all-purpose flour, cinnamon sugar, vanilla extract, buttermilk, and a few other pancake ingredients.
Fry with your preferred oil till the pancakes are puffed up and golden brown.
Drizzle the milk glaze over them to enjoy!
Enjoy the flavor of your favorite cereal in this cake recipe that requires no baking and only 25 minutes to prepare.
You're making the crus in a food processor and the cheesecake itself with an electric mixer. Some of the ingredients required include crushed cereal, brown sugar, melted butter, condensed milk, and lemon juice.
Freeze until the cake is firm before serving.
These cupcakes are the best treats to have as appetizers with their amazing flavor combination.
The cupcakes give a cinnamon sugar flavor with cinnamon chips and a topping of cinnamon toast crunch buttercream.
Bake the cupcakes in the oven for only 30 minutes and top them with more cereals to enjoy.
If you'd like to enjoy your cinnamon toast crunch as cereals with milk, this recipe shows how you can make yours from scratch!
It gives the same sweet, crunchy, and flaky chips that'll have you hooked in a bite.
You can make yours with whole wheat flour, granulated sugar, cinnamon, flour, and a few ingredients in 15 minutes! Enjoy with milk or as toppings to ice cream!
This has the most delicious cinnamon cheesecake filling in a crust made with cereal, unsalted butter, and salt.
It takes about 2 hours to bake, and you should enjoy it with extra cereals when cool and firm.
The puppy chow might just be the best snack of all, giving you unrivaled sweet flavors in a bite-sized treat.
The cereal is coated in powdered sugar, chocolate chips, and peanut butter.
You'll have this ready in ten minutes, and you can pour it into a small bowl to serve and snack on.
Make an irresistible cake with your favorite cereal using this great recipe. It combines cinnamon cake layers with cinnamon toast crunch crumble and cream cheese frosting.
You'd need a load of ingredients to get this together, including coconut oil or any other vegetable oil, baking soda, all-purpose flour, cream cheese, unsalted butter, cereal milk, and vanilla extract.
Serve the cake with frosting and cereal crumbles to enjoy. Explore more desserts like this with our list of fun things to bake!
https://laurenslatest.com/cinnamon-toast-crunch-encrusted-french-toast/
This French toast is everything you need for breakfast, delivering sweet flavors to your taste buds.
You can prepare it with just five ingredients, including butter, day-old bread, milk, eggs, and the cinnamon toast crunch cereal.
Drizzle maple syrup or more butter on the toast to enjoy.
With this delicious recipe, your family will always have something to look forward to on pizza night.
The amazing dessert combines cinnamon streusel and crunchy cereal to give the best flavors.
Ingredients include pizza dough, butter, crushed cereal, sugar, flour, and milk. Top with your preferred pizza toppings, and enjoy.
These are similar to the rice krispies, but you only need marshmallows, salted butter, and cereal to get them ready.
With only ten minutes to prepare, you'll enjoy making and devouring this snack on any occasion.
https://www.cinnamontoastcrunch.com/recipes/cinnamon-toast-crunch-cinnadust-milkshake/
This milkshake is the answer to your sweet cravings, incorporating crushed cinnamon toast cereal, honey, ice cream, and milk.
Top it with caramel sauce, more cereal, Maraschino cherries, or sprinkles to enjoy.
Start your day right with this delicious treat of yeast-raised doughnuts with a cinnamon-flavored milk glaze and cinnamon toast crunch cereal topping.
The decadent treat takes pantry ingredients, including instant yeast, whole milk, granulated sugar, eggs, kosher salt, ground cinnamon, cereal, and unsalted butter.
You'll have this ready to eat with the glaze and cereal topping in about an hour and ten minutes.
This bread pudding is perfect on every occasion as dessert, breakfast, or light lunch.
The delicious dish incorporates ingredients, including Challah bread, cinnamon toast cereal, eggs, and cinnamon.
Drizzle the pudding with a buttermilk glaze and top with crushed cinnamon cereal to enjoy.
If you're looking for something simple, elegant, and tasty to serve at your next party, these muffins are your best option.
The appetizer/dessert/sweet breakfast gives you fresh blueberry flavors with a streusel topping.
These amazing muffins take only 30 minutes to make, and you can serve them with more fresh blueberries to enjoy.
This fantastic cinnamon toast crunch recipe adds an exciting twist to your regular s'mores.
The rich sugar taste of the cereal combines perfectly with sweet chocolate chips, mini marshmallows, and butter to give you a simple and tasty treat.
It takes 10 minutes to cook, and you can serve it to eat after cooling.
Set a cheerful mood at your next family gathering with this amazing bundt cake.
It combines a batter of crushed cinnamon cereal, a delicious cinnamon-sugar swirl, and a delectable cream cheese frosting.
Top with extra cereal and cut into slices to enjoy.
A bite of this amazing breakfast cake will have you smiling throughout the day!
It stands out from every other cake with the incorporation of marshmallows, cinnamon toast crunch, icing, and a frosting.
In only 40 minutes, you'll have a delicious cake to enjoy with a whipped cream frosting. If you want more sweet treats for breakfast, check out our sweet breakfast ideas!
This dish gives you unmatchable French toast flavors like this French toast casserole that pair perfectly with a streusel topping made with cinnamon toast crunch.
The ingredients are simple, taking french bread, ground cinnamon, and vanilla extract, among others.
Bake till it's golden brown, and serve with your favorite toppings. Enjoy more casserole deliciousness with these hearty breakfast casserole recipes.
If you love apple crisp, this recipe will be your new favorite.
Get your ingredients for an apple crisp and top it with cinnamon toast crunch to bake.
You'll never go back to plain apple crisps, especially when you serve this with vanilla ice cream.
Make your festivities even more exciting with these cinnamon toast crunch apple pie bars.
It's an amazing dessert with flavors to please a crowd and get the cheers going.
Top it with a simple milk glaze and enjoy with more crunch cereal.
Cinnamon Toast Crunch Recipes Takeaway
These cinnamon toast crunch recipes are everything you need to bring delightful meals and snacks to the table.
🍳 Related Recipes
So, get that box of cereal and explore this versatile ingredient as much as possible!
Love this breakfast recipe? Please leave a 5-star 🌟rating in the recipe card below and/or a review in the comments section further down the page.

Try one of my comfort breakfast recipes for your next family meal! And if you have any questions, I'm here to help!