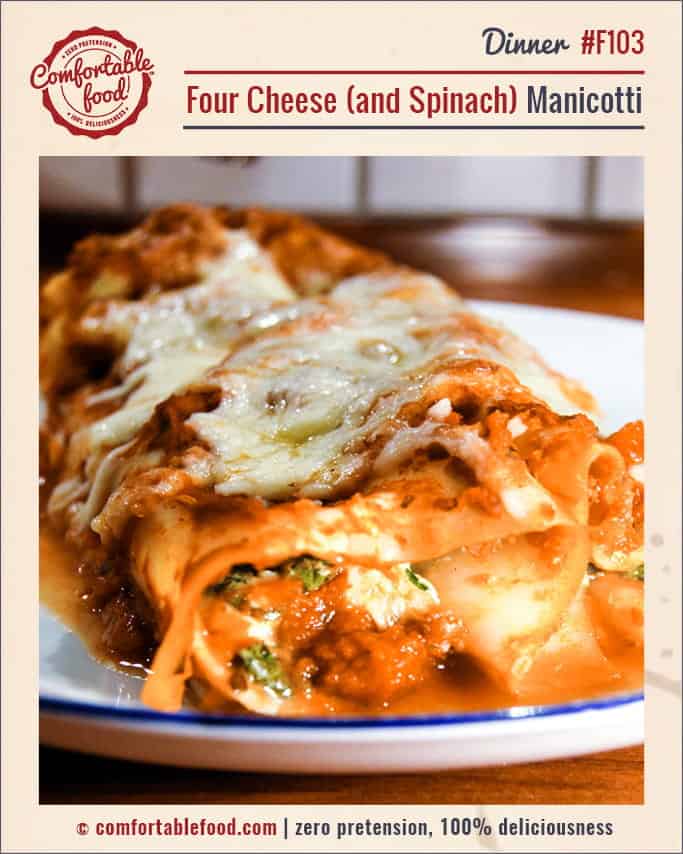 This Four Cheese Manicotti (with Spinach) might just be my all time favorite pasta dinner.  I know, I know it's pretty much just lasagna shaped differently, but there's just something about it that makes me not be able to resist ordering it whenever I see it on a restaurant menu or making it when I want to wow some dinner guests.  The way the pasta tubes hold all that delicious cheese inside just makes it so darn yummy.
I usually like it with a sausage tomato sauce poured over the top, but for this recipe I went more simple and vegetarian.  It's super easy to make this dish at home – if you can't find manicotti tubes, you can roll up lasagna sheets or use cannelloni – which is basically the same thing without the ridges.  Try this dish!  It will amaze you and all you serve it to.  SO yum.
There is some prep time – about 30 minutes, but it's totally worth it. The 'casserole' cooks for about an hour and it makes enough to serve up to 6 people.
got pasta on the brain? check out these other great options:
here's a video of me making this delicious manicotti:
Four Cheese (and Spinach) Manicotti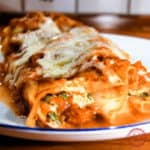 Print
Nutrition facts

(per portion)
Nutrition facts
(per portion)
Calories: 502
Carbohydrate Content: 44.6g
Cholesterol Content: 115mg
Fat Content: 20.6g
Fiber Content: 4.1g
Protein Content: 38.3g
Saturated Fat Content: 12.1g
Serving Size: 8
Sodium Content: 1561mg
Sugar Content: 8.1g
Ingredients
how to
Preheat the oven to 350 F (175 C) and grease a large casserole dish.
In a large pot, boil the manicotti (add some oil to the water so they don't stick together) for about 2 minutes less than package instructs, then run under cold water before draining and set aside.
Heat the butter in a large skillet over medium heat then add the onion and cook for about two minutes.  Add the garlic and cook for 3 minutes more, until the onion is soft then remove from heat and set aside.
Put the cottage cheese (drain any excess liquid), ricotta, parmesan, 1 cup of the mozzarella in a large bowl and mix well.
Stir in the beaten eggs, the spinach and onion until well combined and season with salt and pepper.
Spread about 1 cup of the tomato sauce evenly on the bottom of the casserole dish.
Stuff the manicotti shells full with cheese and spinach mixture and arrange on top of the sauce.  (you can spoon the filling into the shells, or put it in a ziplock bag, then cut the corner and pipe the cheese mixture in)
Pour the remaining 2 cups of sauce over the shells and use a spoon to move them around a bit so the sauce gets between the manicotti, then sprinkle the rest of the mozzarella cheese on top and cover with foil.
Bake in the oven for about  45 minutes, then remove foil and bake for 15 more minutes, until the cheese is beginning to turn golden and the sauce is bubbling.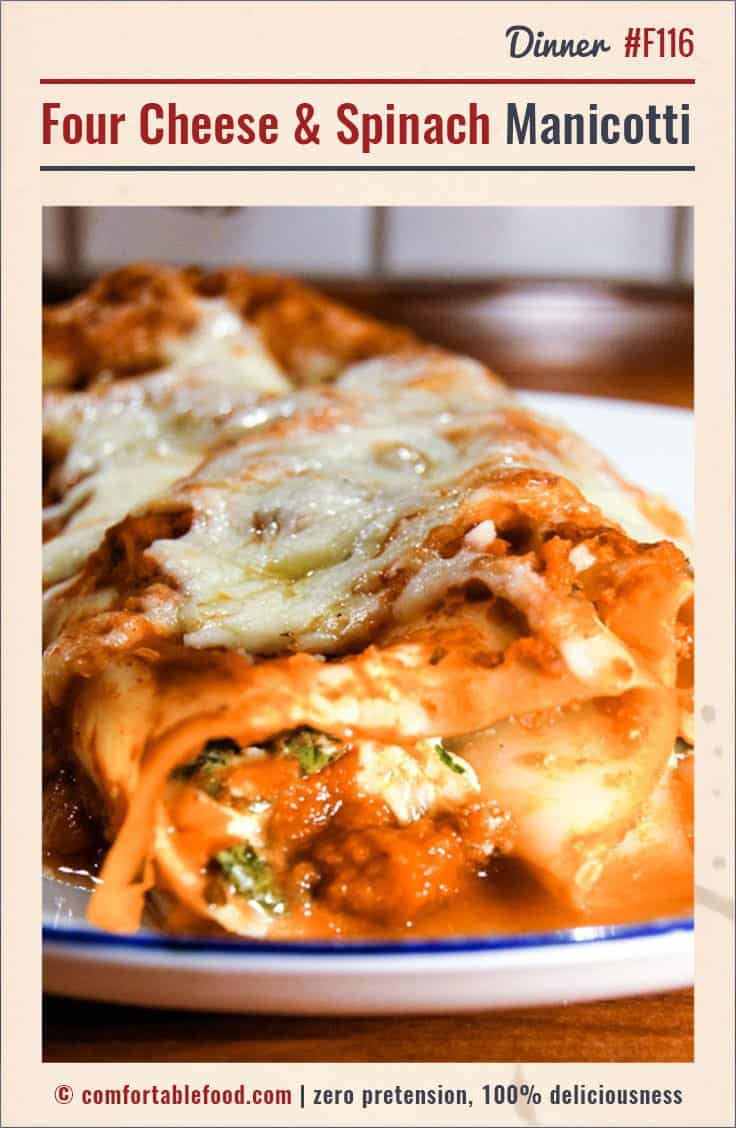 this post contains affiliate links
5

stars - based on

11

review(s)