Have the most amazing treats to satisfy your cravings with these delicious Asian desserts! These unique and tasty desserts will earn you praise at your next festive spread or party.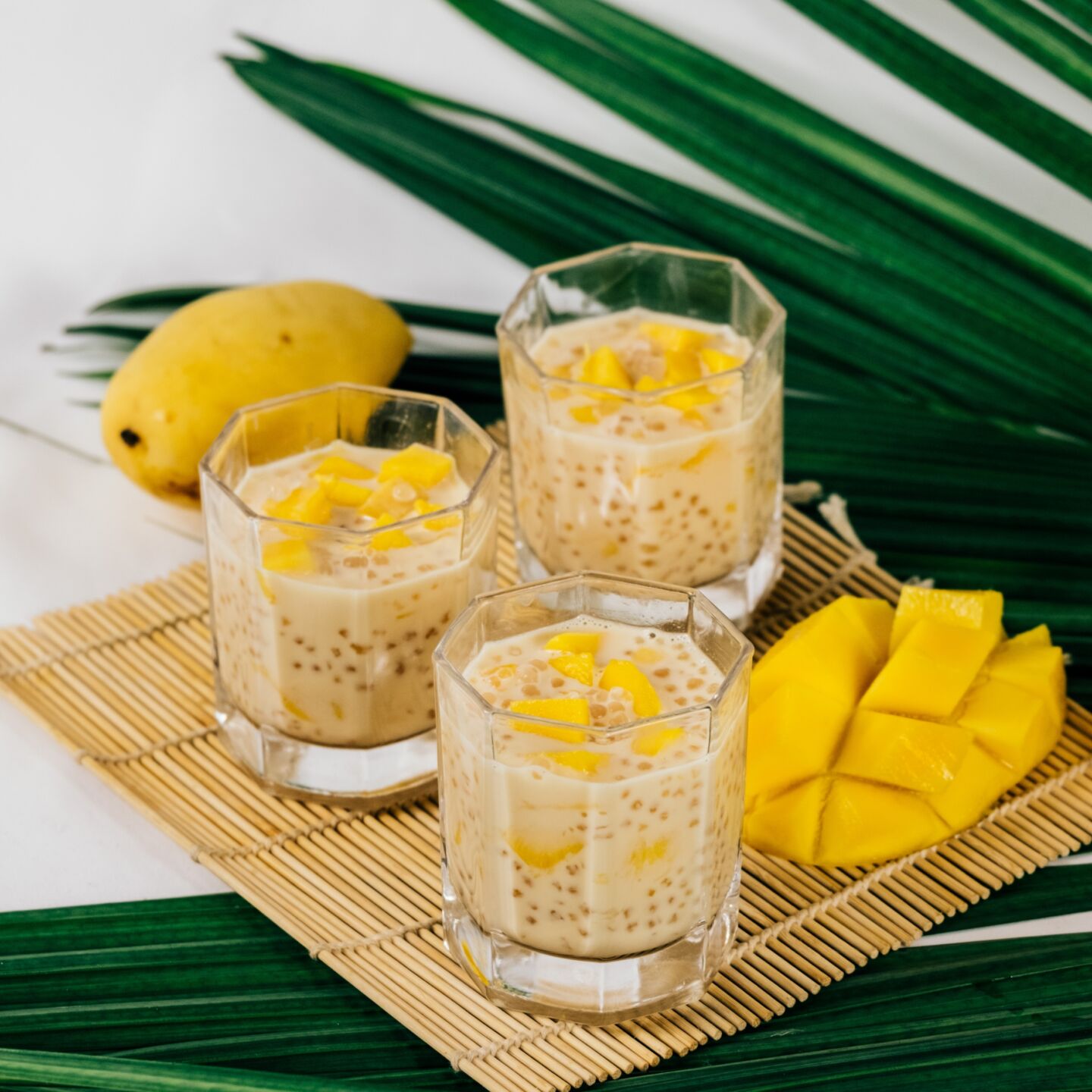 From the simple green tea mochi to sweet rice cakes, there's something to suit every occasion in need of a dessert.
These Asian desserts are super easy to make, requiring a few inexpensive ingredients and a few minutes.
We start our recipes list with the delicious tea mochi, a classic Japanese dessert made with only five ingredients!
This tea mochi is perfect after a light dinner, incorporating earthy and sweet flavors to please your taste buds.
The five ingredients required for the dessert include glutinous rice flour, matcha powder, unsalted butter, baking powder, coconut milk, and sugar.
Bake for only 20 minutes and serve like cookies to enjoy!
A bite of the Korean sweet rice cake will convince you of the Asian dessert supremacy. The sweet treat is made with only three ingredients, giving you a crispy exterior and chewy insides in 10 minutes.
These ingredients include sticky rice cake, vegetable oil or butter, and honey.
Garnish with sesame seeds to enjoy!
The Japanese custard pudding is one of the easiest Asian dessert recipes to make from the comfort of your home.
It's a tasty dessert made of a custard base and caramel sauce.
Ingredients needed include milk, eggs, vanilla essence, and sugar. It takes only 35 minutes to prepare, and you should refrigerate for an hour before serving.
Made with black sesame seeds and a few other ingredients, this traditional Korean dessert will have you coming for more.
The few other ingredients with the roasted sesame seeds include sea salt, rice syrup, honey, and brown sugar.
It takes about ten minutes to get prepare this, and you should freeze it for at least an hour before serving.
This traditional Indian dessert is made with condensed milk, evaporated milk, heavy cream, ground cardamom, saffron threads, and pistachios.
It requires no cooking and only five minutes to assemble.
Freeze for at least three hours and top with chopped pistachio nuts to enjoy.
There's nothing wrong with starting your day with sweet treats, and this 5-minute Vietnamese iced coffee is the perfect option.
It's made with dark roast ground coffee, sweetened condensed milk, and crushed ice. Stir the coffee with ice and serve.
Enjoy more treats to kickstart your day with these sweet breakfast ideas.
The decadence of this Indian dessert is unrivaled, giving you an unmatchable sweet filling in a steamed dumpling of rice flour.
Ingredients required for the filling include coconut, jaggery, ground cardamom powder, and nutmeg.
It takes about an hour and 30 minutes to prepare this, but the time and effort are absolutely worth the result.
This dessert is a classic in Asian restaurants, with its creamy texture and irresistible mango flavor.
It's best enjoyed after a family dinner, incorporating fresh mango chunks, puree, heavy cream, sugar, and lime juice.
Refrigerate and top with berries to serve.
You'd easily fall in love with this Thai dessert that incorporates sticky rice, coconut cream, sugar, yellow mangoes, and mung beans to give you an amazing treat.
It's super simple to make and takes only 30 minutes to cook before serving.
Pan-fried rice cakes are a favorite appetizer, snack, and light meal for all occasions.
The chewy goodness on the inside is thanks to the sweet red beans that taste like sweet potato, complimenting the crispy and crunchy exterior.
Garnish with pumpkin seeds, toasted sesame seeds, Jujube, and honey to enjoy.
This super healthy dessert is deemed good for your hair and kidney, making it the perfect dessert choice for any day.
All you need are sweet rice flour, black sesame seeds, sugar, and water.
Cook for only 6 minutes and serve hot to enjoy!
A dessert made from sweet rice flour dough filled with ice cream, giving you sweet flavors to please a crowd.
You can use your preferred ice cream along with rice flour, powdered sugar, cornstarch, and food coloring if desired.
Freeze for at least an hour before eating.
This fresh fruit dessert is the perfect summer treat to keep you refreshed throughout a hot day.
It's filled with fruits, including diced mango, pineapple chunks, longan or lychee, and maraschino cherries.
Drizzle sugar syrup on the dessert to enjoy.
Cookies are also loved in Asian countries, and these almond cookies just take it over the top.
It's made with almond flour, almond extract, flour, kosher salt, baking soda, eggs, and sliced almonds.
It takes only 17 minutes of cook time and two hours to refrigerate if you want it chilled. Make a sandwich with these cookies and explore more with our best sandwich cookie recipes.
These peanuts are perfect for satisfying your guests at a mini-gathering, and they only take about two hours in the oven.
Your shell peanuts are cooked with sea salt, organic sugar, Chinese five-spice powder, and garlic powder.
Snack on the peanuts anytime you have a craving!
This sponge cake is perfect on dessert dates, giving you flavors from a combination of only six ingredients.
These include eggs, granulated sugar, cake flour, salt, vanilla extract, and baking powder.
Bake for only 25 minutes and serve warm to enjoy.
The Japanese cheesecake melts in your mouth to give you the right amount of sweetness for a dessert.
It's made with a cream cheese mixture and meringue, giving you a pillowy, light cheesecake. Bake for about 48 minutes, and chill for about 4 hours before serving.
If you loved this recipe, you'd enjoy our Oreo cheesecake even more!
Whether in soup, shaved ice, or bubble tea, tapioca pearls give you an exciting addition to your dishes and desserts.
They're simple to cook, and they take on the flavor of whatever you add them to.
Cook the pearls for about an hour in sugar water, and serve!
This is a traditional Indonesian dessert that is enjoyable with dawet, crushed/shaved ice, sweet coconut milk, and sugar palm fruit.
Some of the ingredients for this dessert include Pandan juice, mung bean starch, palm sugar, and tapioca starch.
You'll get this delicious dessert ready to serve and enjoy in just 45 minutes.
Enjoy divine Asian flavors in this dish that incorporates silky egg custard cooked in buttery puff pastry.
It takes only 15 minutes to prepare and requires a handful of ingredients, including sheet puff pastry, white sugar, evaporated milk, vanilla, and egg yolk.
Serve warm to enjoy the creamy vanilla flavor of the egg tarts. If you loved this puff pastry recipe, you'd enjoy our amazing phyllo dough recipes.
This super healthy dessert is great after a healthy meal, incorporating simple, nourishing, and refreshing ingredients.
These include Bosc pears, ginger, honey, pine nuts, and cinnamon powder.
Serve hot when under the weather or serve cold when seeking a refreshing dessert.
The Castella cake is a Japanese decadent dessert that takes only four ingredients.
It's a moist, bouncy, and delicious cake made with bread flour, whipped egg white, sugar, and honey.
It takes only 35 minutes to make, and it's best enjoyed with a topping of whipped cream.
Traditionally made during the New Year holidays, this candy is an absolute delight with its sweet flavors.
You need just three ingredients, including marshmallows, powdered whole milk, and peanuts.
Refrigerate for at least an hour and wrap in candy paper to serve.
This dessert combines rice flour dough with a mung bean and coconut filling.
It's a decadent dessert that features an array of recipes, but it's quite simple to make.
You'll have it ready in about an hour and ready to serve with black sesame seeds.
Make the best of your bananas with this delicious Thai dessert recipe.
The dessert sees a combination of ripe bananas, all-purpose flour, cornstarch, corn flour, coconut, and cardamom.
Coat with sesame seeds and fry till they're crispy. Serve with vanilla ice cream to enjoy.
Enjoy more of these banana-inspired desserts with our amazing ripe banana recipes.
When it comes to Asian desserts, these butter cookies are the ultimate appetizer to enjoy with family and friends.
The cookies are made with cake flour, powdered sugar, butter, vanilla extract, eggs, and cocoa powder.
These take about 30 minutes to make, and they're best enjoyed cold and firm. Enjoy these cookies as you'd enjoy French butter cookies on our list of amazing French cookies.
With their crispy exterior and chewy insides, these green tea cookies are Asian desserts you must have at your parties.
Your key ingredient is the matcha green tea powder to go with your other typical cookie ingredients.
Bake for only ten minutes and serve with your favorite ice cream.
These tender and sweet donuts are some of the best Asian desserts that will have you completely hooked.
The chewiness and sweet flavors come from glutinous rice flour, cornstarch, silken tofu, egg, granulated sugar, and baking powder.
Coat with your preferred glaze, and enjoy!
As an afternoon snack or after-dinner dessert, this matcha swiss roll is a healthy and delicious sponge cake you'd absolutely love.
The swiss roll incorporates a matcha cream filling of green tea powder, heavy whipping cream, and sugar.
It takes about two hours to make, but you'd enjoy every bit of the preparation process and the result.
You'd enjoy these buns with their rich and delicious vanilla and coconut flavors.
They're pillowy, soft, and milky and will melt in your mouth with a cup of coffee or tea.
Bake for 25 minutes, allow them to rest till it's warm, and enjoy!
Asian Desserts Takeaway
These are the best Asian desserts to enjoy on regular and special occasions! They're made with simple ingredients, and you'll have a swell time putting them together in the kitchen.
🍳 Related Recipes
Enjoy with your family and friends, and serve as appetizers or snacks at mini-gatherings! Explore more amazing desserts with this list of fun things to bake.
Love this dessert recipe? Please leave a 5-star 🌟rating in the recipe card below and/or a review in the comments section further down the page.

Try one of my comfort dessert recipes for your next meal! And if you have any questions, I'm here to help!