From sides to the main dishes, these are the best okra recipes to try for the summer! Each of these okra recipes is absolutely delicious, giving you an array of tasty options to share with your family and friends.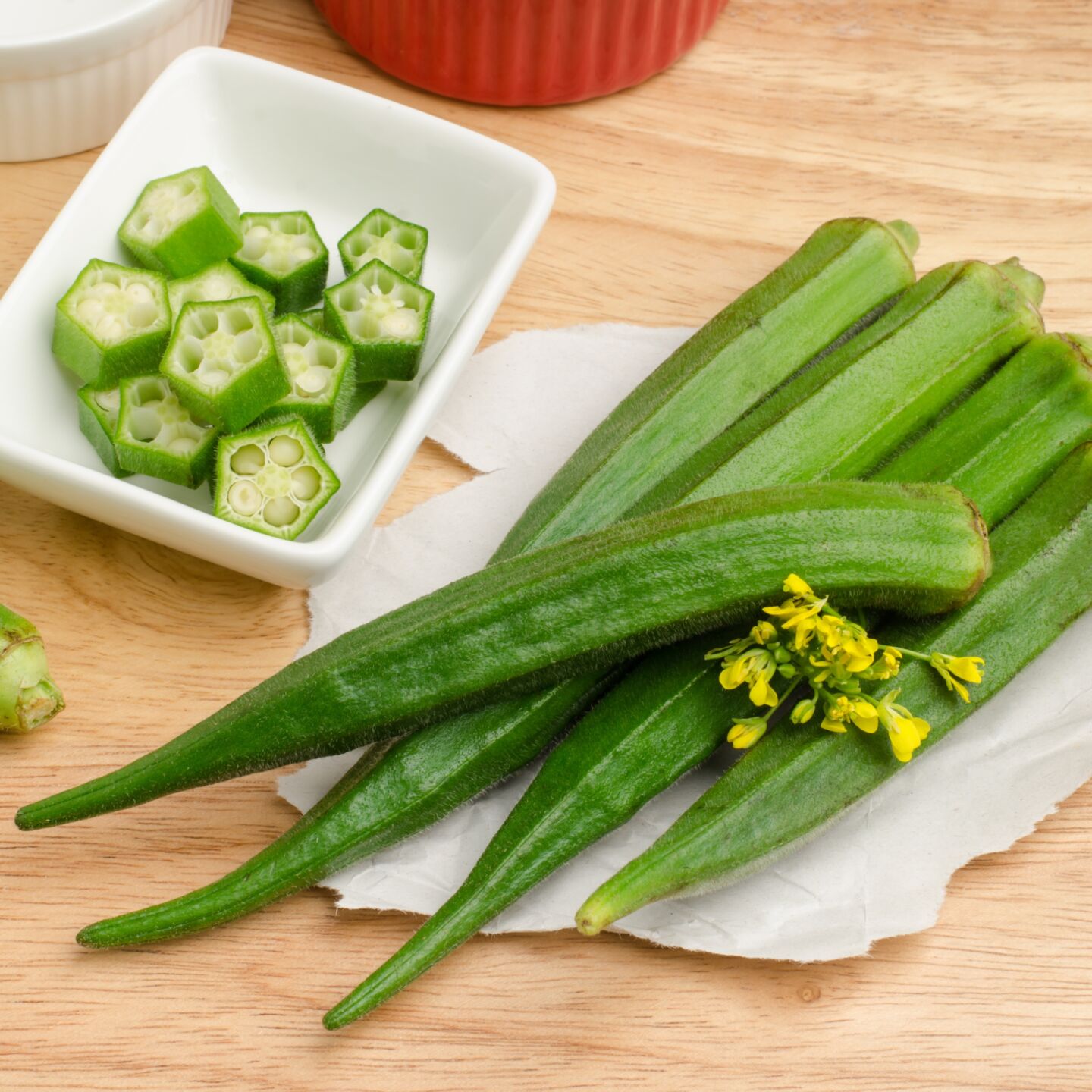 You'll have a fun time in the kitchen cooking okra, as they can be pickled, grilled, fried, and even oven-roasted.
One or more of these recipes is bound to become your favorite, and we're glad to take you on the delicious journey of discovery!
We start with the classic soul food of pan-fried okra, a simple dish perfect for any time of summer.
Many southern families enjoy this classic okra recipe as a side dish or light meal during summer.
The simple recipe calls for fresh or frozen okra, cornmeal, buttermilk, extra virgin olive oil, and salt to taste.
It cooks for about 25 minutes till you get a golden brown and lightly crisp result. Sprinkle salt and enjoy alone or with a main dish!
This vegan-friendly dish incorporates a host of delicious flavors that will have you lick your plate clean. It's a Greek classic that serves perfectly as comfort food on busy nights, and it takes about an hour to cook.
Ingredients for this include okra and tomatoes, seasonings, and white vinegar. Serve the okra stew warm and drizzle with olive oil to enjoy.
Enjoy more of these with these amazing greek soup recipes!
Take a break from the traditional gumbo with this okra dish loaded with chicken, bacon, and creole seasonings.
The fantastic dish incorporates fresh okra, chicken breasts, tomatoes, corn, onions, and bacon.
It takes about 25 minutes to prepare and should be served over steamed rice with bacon crumbles. Check out some of our fantastic chicken cutlet recipes for more dishes like this.
Enjoy your salmon better with the unique flavor of okra in these simple kebabs!
The kebabs are a perfect option for dinner, giving you a wholesome meal to enjoy in just 15 minutes.
The easy recipe requires okra, salmon fillet, green peppers, lemon, garlic, onions, sumac, olive oil, and ras el hanout. Add salt to taste, and enjoy!
The smashed okra dish is whole okra pods coated in buttermilk and seasoned cornmeal, then fried to golden brown perfection.
It gives you a crunchy outer texture and tender, juicy insides that guarantee no leftovers.
The seasonings needed include kosher salt, freshly ground pepper, cayenne pepper, and garlic powder. Use peanut oil to fry okra pods and serve warm to enjoy.
Make the perfect dinner with Kielbasa, shrimp, tomatoes, lime juice, frozen okra, jasmine rice, and a load of seasonings.
This gumbo rice gives you decadent creole flavors that will instantly make the dish your favorite.
It takes only 35 minutes to make and should be served immediately with a topping of your choice to enjoy.
In this delicious okra recipe, smoked okra is smothered with sausages and chicken to serve with rice or crusty french bread.
The main ingredients include frozen or fresh okra, chicken wings, celery, smoked sausage, black pepper, and cajun seasoning.
The dish takes almost two hours to prepare, but you'll get your efforts well-compensated with an amazing result!
This is also called the Limpin' Susan, and it's a dish of okra, green bell peppers, bacon, and rice.
It's a tasty dish that guarantees you'll be coming for seconds from the first bite.
You can make this delicious dish for the family on busy weeknights as it takes only 35 minutes to cook.
Take your fried okra dish up a notch with this spicy recipe that's great as an appetizer, side dish, or light dinner.
The great side dish incorporates a lot of spices, seasonings, and hot sauce to give your main meal that spicy kick.
This firecracker fried rice takes less than 20 minutes to make, and you should enjoy it warm with your favorite dipping sauce.
If you want a rich, delicious, slimy soup to comfort you on a cold night, the shrimp and okra gumbo is the best option for you.
This gumbo is versatile and can accommodate more seafood of your choice to give you a depth of flavors.
Serve with steamed rice and garnish with scallion or parsley to enjoy.
This spicy homemade pickled okra is perfect for summertime, giving you slime-free and crunchy appetizers to enjoy.
The ingredients required include Jalapeno peppers, okra, pickling salt, pickling spices, sugar, and red pepper flakes.
Put the okra pods in a mixture of vinegar, water, and salt to store and eat at any time.
Make the best out of summer with this delicious salad that incorporates your favorite vegetables.
Get your grill pan to char the vegetables and mix them with fresh herbs and lime or lemon juice.
Stir and cook till everything's warm, drizzle with olive oil, and sprinkle salt to taste.
Get this amazing side dish made with just two vegetables and garlic seasoning. Cook okra, fresh green cabbage, garlic powder, ground pepper, and extra virgin olive oil for about 30 minutes, and you'll have this ready to serve.
Ensure not to over-stir, and serve warm with your main dishes to enjoy.
Try out something new with cabbage in this southern-style fried cabbage with bacon recipe!
Enjoy crunchy and creamy textures in this spicy grilled okra that serves as the perfect appetizer or side dish.
The recipe incorporates fresh okra, smoked paprika, garlic powder, cumin, chili powder, and olive oil.
Cook for just ten minutes and enjoy with your main dish.
This refreshing salsa will be the highlight of your summer, incorporating pickled jalapenos, fresh corn, tomatoes, and sliced okra.
All of these are tossed in lime juice and cooked in olive oil for five minutes.
Enjoy alone or as a side dish to your meat dishes.
Whether as a main course or a side dish, this delicious Creole lemon okra incorporates spices and seasonings to give you palate-pleasing flavors!
It's made with okra, lemon juice, black pepper, white onions, cumin seeds, turmeric, and canola oil.
Serve with rice or a hot meat dish to enjoy.
An okra stir fry might be just what you need on a busy night with the delicious flavors you'll get from a host of seasonings.
The recipe calls for okra, olive oil, turmeric, chat masala, ginger, garlic, and onions.
It requires just 10 minutes of cook time and should be served with naan or dal to enjoy.
These patties are an exciting way to turn okra into appetizers or a flavorful snack to enjoy with your family.
The patties require chopped frozen okra, onions, all-purpose flour, cornmeal, baking powder, garlic powder, and eggs.
Combine these ingredients and fry over medium heat till the okra sides are browned. Sprinkle with salt and serve to enjoy.
With only 15 minutes of cook time, this is one of the amazing okra recipes that can turn just anybody into a fan of the vegetable.
The super simple dish is healthy, flavorful, and perfect for summer.
Season with kosher salt, pepper, and garlic powder, and ensure they're browned before serving. Eat as a side dish with your meat meals to enjoy!
This is similar to the oven-roasted okra, but instead of the light brown result, you roast till the okra pods are blistered.
Toss the blistered okra with lemon juice and parmesan cheese to give a sweet and tangy flavor.
Serve warm and sprinkle with parmesan cheese and salt to enjoy.
Okra rice is a classic Caribbean dish that serves well as a main course and side dish, packing plenty of flavors and nutrients.
This okra rice recipe calls for Jasmine rice, sliced okra, cloves, tomato paste, Haitian epis, and olive oil.
It takes only 15 minutes to cook, and you should add kosher salt and black pepper to taste. Follow our guide on how to make the perfect jasmine rice for the best result.
This southern succotash is a delicious and filling dish made with crisp corn, okra, grape tomatoes, and sausages. It's perfect for dinner on a busy weeknight, requiring only 30 minutes to get ready.
Some of the ingredients that give flavor to the dish include white onion, garlic, red pepper, and red wine vinegar. Add salt and pepper to taste, and garnish with fresh parsley to enjoy.
Make more amazing southern dishes with these southern comfort food recipes.
Get pickled okra and turn it into an irresistible appetizer for these deviled eggs.
They're the perfect appetizers for game day, requiring large eggs, low-fat Greek yogurt, yellow mustard, pickle juice, white pepper, cayenne, dill pickles, and pickled okra.
Add salt to taste and garnish with smoked paprika to enjoy.
The air-fryer gives you a much healthier alternative to frying your okra, leaving out the fatty substances from oil-frying.
For this, you need fresh okra, flour, breadcrumbs, and coconut or olive oil.
The cooking time for this is just ten minutes. Serve warm with your main dish, and enjoy.
This is an appetizer for game days or mini-gatherings, giving you a delicious treat in less than 15 minutes.
All you need for the recipe are okra pods and bacon to fry over medium heat.
Add salt and pepper to taste an enjoy. If you love this bacon-wrapped okra, you'll enjoy these bacon-wrapped jalapeno poppers better.
Okra Recipes Takeaway
These okra recipes are everything you need to make a delicious southern dish for any occasion. From the main dishes to the appetizers, you can make these delicacies with inexpensive minimal ingredients.