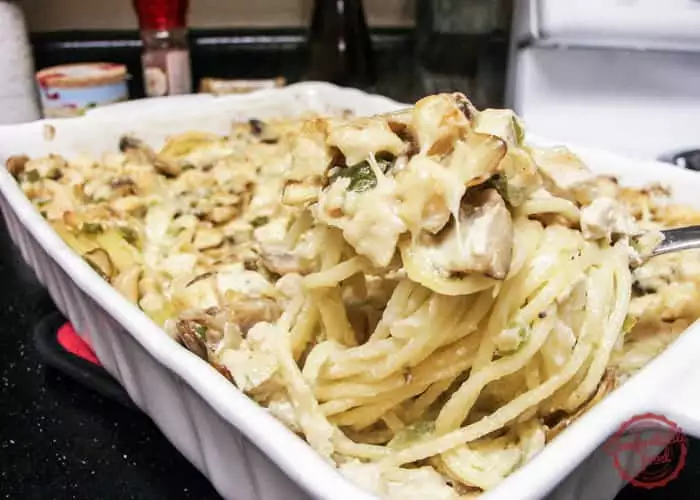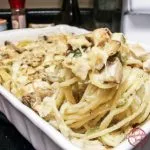 This chicken tetrazzini casserole is Italian-American food at it's best.  It's rich, creamy and perfectly hearty - this casserole makes a wonderful dinner any time.  This recipe can be very versatile and it's easy to modify, so have fun with it.

Check out these kitchen essentials helpful in making this recipe:
here's a video showing how to make it:
Ingredients
how to
Preheat the oven to 425 F and grease a 9x13" casserole dish.
Heat the oil in a medium skillet over medium high heat.  Generously salt and pepper the chicken breasts on both sides, then cook until cooked through - about 4 - 5 minutes per side.  Remove to a plate and set aside.
While the chicken is cooking, heat the water for the pasta and cook for about 1 minute less than package directions.  When cooked, drain in a colander and let sit.
Return the pan you cooked the chicken in to medium heat, add two tbsp of butter and allow to melt.  Add the onion and peppers, and cook until softened, about 4 minutes.
Increase the heat to medium high, add the mushrooms and cook until golden brown, about 5 more minutes.
In a saucepan, melt the remaining 4 tbsp butter over medium-low heat.  Whisk in the flour until smooth, then stir in the half and half and the chicken broth.  Increase the heat to medium, and cook and stir until thickened, about 10 minutes, then stir in the white wine and mushrooms.
Cube up the cooked chicken, and stir into the sauce.
Put the spaghetti noodles into your prepared baking dish, then pour the sauce over the top - shake the dish to even everything out.
Sprinkle the parmesan over the top and bake for about 20 minutes, or until hot and bubbly.  Before serving, sprinkle with paprika.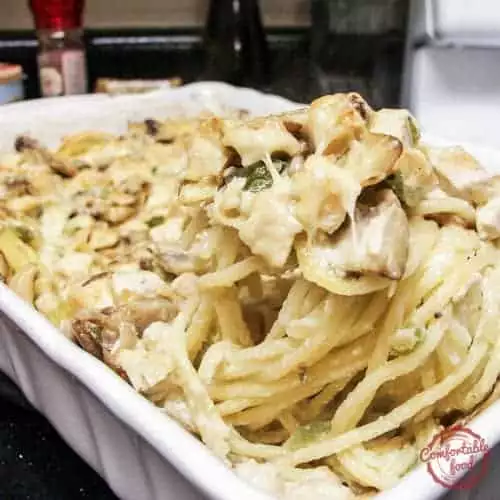 4.75

stars - based on

4

review(s)